Matthew Lugg, managing director of MJL Contractors, spoke to the Digger Blog about his company's latest acquisition. "We purchased the new Takeuchi TB285 from CBL Plant Sales after trying out several of its competitor's current offerings, and I am pleased to say we have definitely made the right choice with this machine".
Matthew continued, "We purchased our first Takeuchi excavator over eleven years ago, when the TB175 was released, which I have to say was an incredible machine and served us well with a faultless performance during the 4 years it remained in our possession, since then we have also purchased the new 5 ton TB250 which we have now been running for 2 years and it has never let us down"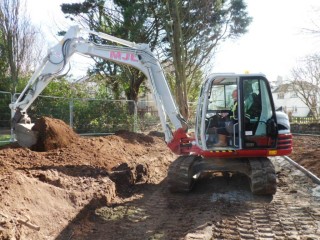 Matthew has no doubt that the new TB285 will once again exceed the company's expectations just like its lighter predecessor. Matthew said "I feel the TB175 was long overdue a facelift and this new model has been well worth waiting for. From a drivers point of view it's got everything you could wish for in a machine, smooth fast and powerful hydraulics, great visibility, and an all round good looking piece of kit".
Operator Rodney Ridgment, has been with the company for over 4 years and has nothing but praise for his new mount. "From the first hour of operating the machine I was convinced this would be my preferred choice" said Rodney "I especially like the new larger cab which makes my job so much easier and the addition of air conditioning is a big bonus too. I have operated many other makes of machines over the years but this new machine will take some beating and I think Matthew knew that for me nothing else would be good enough!"
Vincent Goodyear, depot manager of CBL's Saltash branch said, "CBL have been very pleased with the response towards the new TB285 machine following several successful demonstrations to a number of the major ground work companies in the South West"

Vincent continued, "MJL Contractors Ltd are the latest company to see first hand the benefits that are making this excavator a massive hit in Cornwall and Devon and indeed around the country"
Rodney Luckman, area sales manager who sold the machine to MJL commented, "The TB285 combines all the well proven characteristics of Takeuchi excavators featuring the almost legendary smooth hydraulics, powerful machine performance and good serviceability into a larger sized machine. This newly designed excavator meets the growing demand for a compact Takeuchi in the 8-10 tonne weight class"
Rodney Luckman continued "The TB285 comes complete with the all new turbocharged engine that develops more power and increased torque along with a well proven, high performance hydraulic system with improved power, cycle times and fuel efficiency. We would like to thank Matthew for choosing Takeuchi again and wish MJL Contractors Ltd all the success in the future".
In summary Matthew Lugg said "I am sure this new model will be very popular with groundwork and plant hire companies, as it has got everything you could possibly want from a machine and the comfort of carrying the solid reputation of Takeuchi's reliability and excellent resale value"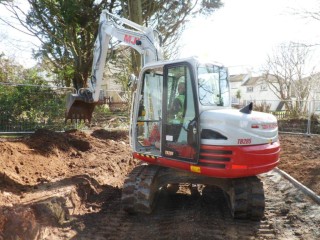 Matthew continued "If I had to find one criticism it would have to be bucket quality, which is of course nothing to do with the Takeuchi product having been sourced from an independent supplier. The ground conditions in Cornwall can be rather challenging to say the least and we will be required to beef up the new buckets supplied with extra steel to protect them from the rigorous conditions down here, but overall we are delighted with our new purchase and thank CBL for providing us with it. We look forward to dealing with you again in the future".