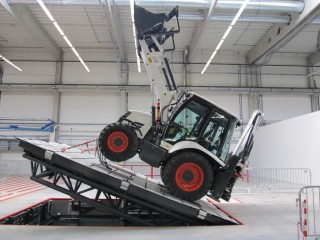 The Innovation Center is the R&D hub of an integrated site at Dobris that includes manufacturing, sourcing and training at the same location.
Doosan Bobcat believes that the ability to design, test and manufacture Bobcat machines locally is one of the company's competitive advantages in the Europe, Middle East and Africa (EMEA) region. The new investments are intended to boost these advantages and involve every part of the operations in the Innovation Center, from prototype design and assembly to performance and durability testing.
The facility has more than 8,000 m2 of floor space for prototyping and testing and 1,400 m2 of offices.
Over the last 12 months, the Bobcat Innovation Center has brought in new a CNC horizontal boring machine, a CNC five-axis milling machine, and a dynamometer.

The CNC machines have been installed to support faster prototype builds, giving Bobcat full control of all processes without the involvement of third parties.
The dynamometer measures engine or powertrain system loadings in laboratory conditions (pictured below). Based on the loading, machine performance (cooling, hydraulic parameters, fuel consumption and so on) is tested in a set ambient temperature. Testing on the dynamometer is mandatory for new engine implementation and for application approval on the supplier side.
A 300 kW dynamometer with six electric generators is now installed in the Innovation Center. Bobcat can test and optimise cooling performance in the 'hot' climate-controlled chamber at temperatures up to 55 °C. Advanced functions of the dynamometer allow replication and simulation of real duty cycles in a laboratory environment based on data from the field.