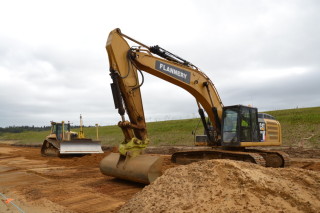 P Flannery Plant Hire is the main earthworks subcontractor and it is using a range of Cat machines with advanced Caterpillar Production Management (CPM).
Flannery operations manager Niall Hester says: "We have worked with Balfour Beatty on numerous projects over the years, but the significance of the Norwich bypass is the collaborative approach we have taken with sharing data and information.
"As part of the planning process, we worked alongside [Cat distributor] Finning to show the team at Balfour Beatty just how we can monitor performance on site. Through VisionLink, we're able to provide data on payload, fuel burn and overall performance of each core machine on site."
When Flannery was awarded the subcontract, it bought new Caterpillar machines from Finning, ranging from five to 50 tonne excavators and the latest articulated dump trucks, including the Cat 730C Ejector Truck, which is fitted with CPM.
The purchase of the ejector with CPM was firstly all about productivity and safety, as ejector trucks do not have to stop and lift a skip to tip material. Dumper trucks, particularly those that obstruct the driver's view when tipping their load, have become particularly controversial machines in recent years, associated with site fatalities.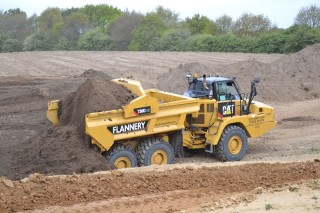 The Cat 730C ejector unit also makes for a more efficient working environment by displaying payload weight and status including external lights, which automatically signal when target payload has been achieved.
The payload on the machine is shown on the in-cab monitor which enables operators to ensure the truck is not under or over loaded, which in turn optimises fuel burn per tonne on each cycle meaning the productivity of the machines are more efficient.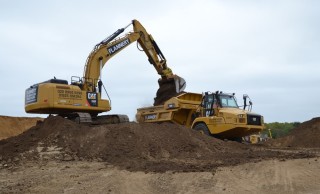 This information can be used by Balfour Beatty to provide the best possible carbon footprint on site as well as being able to see the impact of the fleet.

CPM tracks and measures data such as tonnes per load, tonnes per cycle, distance travelled per day, and how many litres of fuel a machine burns per hour which gives the project a daily overview of progression.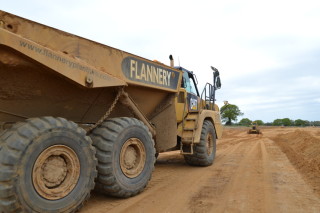 No matter where the units are working on the new dual carriageway the data can be sent and received in real-time. For the team onsite, this data is sent via VisionLink into the online portal, where management and the Balfour Beatty team can access it from any connected location.
By combining CPM with additional data relating to the health of machines through VisionLink, any potential issues with machines are more visible, resulting in less downtime.
For example, if an air filter is blocked, VisionLink is notified and the team can get a Finning fitter straight onto site, preventing a bigger issue developing.
Flannery's Niall Hester says: "From a performance perspective, we have also witnessed a dramatic increase in cycle times, not to mention the reduction in the use of more-expensive-to-run dozers. Each day we are learning more about the performance of equipment and this information is being shared with Balfour Beatty, so we can all see the benefits of technology driven project management."