Team members from Terex in Coventry, the UK manufacturing hub for Terex compact construction equipment, decided to dig in to the "Wear it Pink" challenge in an unique way. Turning one of their usually white backhoe loaders pink, a team ventured out into Coventry on Friday 28th October, to raise awareness of breast cancer and support the Breast Cancer Campaign's "Wear it Pink" day. Stopping at the Coventry Transport Museum, the Pink backhoe loader was parked next to the "Barbie Pink" Jaguar XJ-S car owned by the Transport Museum, whilst the team spread leaflets and gained support for the Breast Cancer Campaign. After passing the Coventry Cathedral, the team continued through the city before returning back to the factory.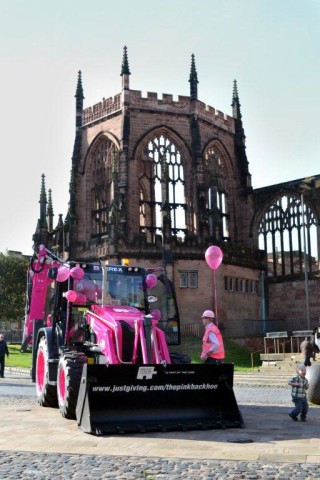 Monday 31st saw the Terex Coventry facility hold an internal fund raising day with cake sales, a raffle and competitions for the "best dressed" in pink, as well as other fund-raising competitions. At a time when money is tight, this unusual event raised £2,156 for the Breast Cancer Campaign, and Terex would like to thank all those who contributed their time and money to such a worthy cause. If you missed an opportunity to support this campaign, there is still time to offer your support so please, visit www.justgiving.com/thepinkbackhoe to help save more lives every year.
Pictured above...Ian Mullen, General Manager of Terex Coventry and Gary Hall (with the beard) GM of Coventry Transport Museum

Girls from left to right: Michelle Waterhouse, Jackie Williams, Sarah Lettice (top), Anna Durrant (below).
"This was such a great achievement by the team who turned this event round so quickly." Ian Mullen, General Manager said, "With the idea being a little out of the ordinary, it really captured the enthusiasm of the whole team. I would like to say a big thank you to everyone who has contributed to this charity and help make the Terex Pink Backhoe a great success"
The Terex Coventry manufacturing facility, based in Prologis Park, Coventry, manufactures Terex backhoe loaders, site dumpers, tandem vibratory rollers and Genie scissor lifts. Employing hundreds of people on site, this facility supplies the UK and exports products around the globe with destinations including America, Brazil, the emerging markets and Australia. Each year this facility chooses to sponsor a charity to help raise awareness and funds for worthy causes.