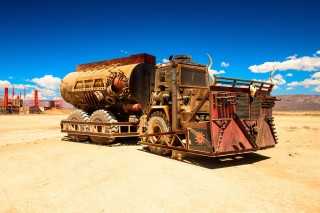 Carnage is hosted by Freddie Flintoff, Lethal Bizzle and Vick Hope and filmed in Tankwa Karoo National Park, South Africa. The makers describe it as "the most extreme contest on the planet where 30 purpose built, weaponised vehicles clash and smash in three thrilling arenas in the blazing heat of the vast, arid desert".
But the contestants aren't just battling with each other, trying to immobilise opponents' vehicles; they also have to escape 'The Pusher', a heavily modified Terex 2766C articulated hauler, built in Motherwell back in 1997.
Contestants face the 22-tonne truck in 'The Grid' – an urban-style obstacle course, surrounded by walls of fire and a three metre trench. The Grid is the only one of the three arenas that's big enough to accommodate the size, turning circle and weight of The Pusher.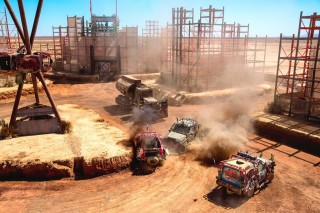 The 2766C dump truck has gone through a series of modifications in order to become The Pusher. "The idea was to design a vehicle that no contestant would want to meet face-to-face, and that was so big and powerful that you could outrun it but not outmuscle it," says Francois Grobbelaar, Carnage's stunt coordinator. "That's why I chose Terex Trucks' 2766C. It was the ideal vehicle to use for our build."
To help transform the 2766C into character, it has been spray-painted black, given tinted windows and had white smoke added to the smoke stacks. Being so big and heavy, there was a risk that the 2766C would damage the arena – so, the original loading section was replaced with a lightweight tank.
To ensure that it was protected from any damage caused by the contestants' vehicles, metal window screens were installed as well as wheel guards. "Some contestants use spikes to damage other vehicles," explains Francois. "So, we fitted angled conveyor belts under the front of the truck to deflect spikes away from the wheels, reducing the risk of a flat tyre."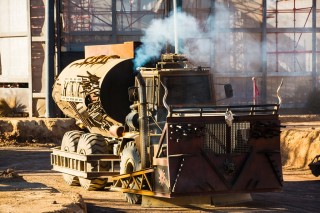 Other add-ons include three CCTV cameras for 360-degree visibility, an access door at the back and a platform with a hatch, making it possible to film driving shots with the presenters. Another noticeable modification is the snow plough that has been fitted to the front of the machine.
Originally designed for performing in quarries, mines and commercial construction projects, Carnage shows the 2766C truck in a completely new light.
"We always planned for The Pusher to be the star of the show, and that's indeed what it is," concludes Francois. "It was a great vehicle to work on and I am very happy with how she turned out. We hope to use her in more seasons."
The last episode of Carnage Season 1 is on Sky One at 8pm on Saturday 16th June. You can catch up with previous episodes at sky.com