The Caterpillar D9 first appeared in 1955 as a 286 horsepower model, as years went by the tractor was upgraded to the D9D, D9E, D9G, and finally the D9H model which was by that time fitted with a 410 horsepower engine.
The D9G model was built from 1961 to 1974 at Caterpillar's East Peoria plant; the tractor had a maximum engine power of 385hp and weighed in at around 31 tons.
This fine example of a D9G fitted with the American style ROPS structure was snapped by Digger blog reader Bob Rocker in Florida.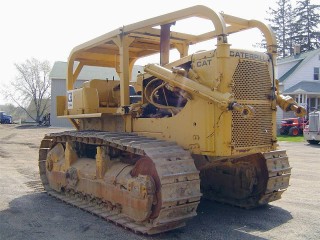 This next series of photos from the Digger blog archives show a nearly new Cat D9G which was owned by Whites which was once a very large plant and contracting business here in the South West of England. Some elements of that business still trade to this day as Broadhempston Plant Hire who are based near Newton Abbot in Devon.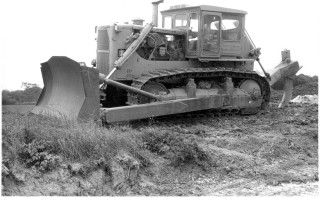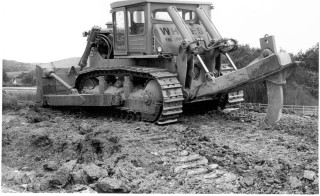 I have very fond memories of the D9G too as I spent many a Saturday morning driving one during the construction of the M27 motorway which runs from Southampton to Portsmouth.
I was only about 12 or 13 years old at the time but used to be let loose on the tip on this old rope controlled D9G which was owned by M. C. Pierce Earthmoving.

This old machine ended up on its side at the toe of a batter whilst it was being used for spreading topsoil, not the best choice of machine for such a task really! Luckily the driver jumped clear and the machine was soon uprighted and put back to work shortly after.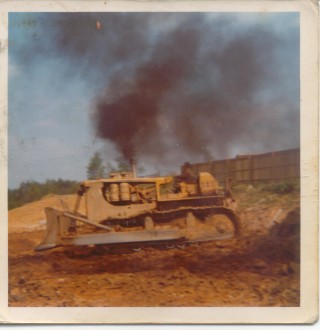 This scan of a classic photo shows what is said to be one of the first D9's in the country being demonstrated to the British army.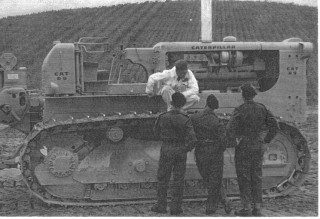 This photo shows a fine example of a D9G which was owned and operated by Essex based earthmoving and plant hire company C.J Pryor. Do any of our readers know the identity of the two lads stood in front of this machine?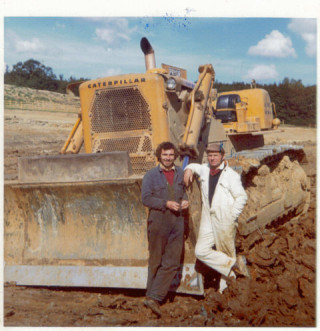 Finally here is a line up of D9's at auction including the last models of the conventional track models the D9H. Many of these venerable old machines are still hard at work around the world today all credit to the Caterpillar products durability.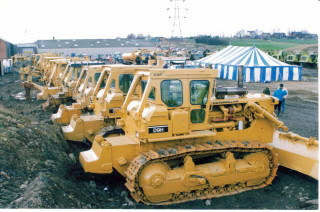 Check out Finning Cats new innovative website Lastability.com