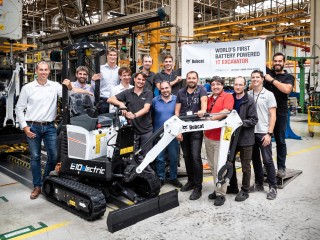 And all this year's production is already sold out.
The first E10e off the line – serial number B4KL11001 – was completed at 1:08 pm on 11th July 2019. It is headed to the Netherlands to the Apeldoorn-based Bobcat dealer Inter-Techno, where it will be used as a demo machine and is available for hire from Inter-Techno's partner company, 123Machineverhuur.
Doosan Bobcat has chosen the Dobris factory to produce the E10e for all markets worldwide. The Netherlands, Sweden, Germany, Austria and Norway are the countries selected for first shipments. How soon we see it in the UK, if at all, depends on perceived market demand.
The zero tail swing E10e, just 71cm wide, is built on the same platform and produced on the same production line as the diesel-powered E08 and E10z mini-excavators. This line currently has capacity to make 2,000 machines a year.

Jarry Fiser, mini-excavator product line director at Doosan Bobcat EMEA, says: "We are very pleased that actual demand is higher than our original expectations and production capacities. We prioritised Bobcat dealers in the Netherlands, the nordic countries, Germany and Austria. These countries have very positive public acceptance of alternative power sources."
He adds: "The E10e is just the start of our journey in further expanding our portfolio in alternative power sources. In essence, all the components in the power train are made to measure and we are still adjusting the processes with our suppliers so that we can increase the production volumes when needed. The 2019 production capacity is already sold out and we are accepting orders for delivery in 2020."
The E10e has a lithium-ion battery pack that runs for up to four hours on one charge. By using an optional external 400V supercharger, it can be recharged to 80% of its capacity in less than two hours. In this way it can be made to serve a full working day with normal work breaks. The battery can also be fully recharged overnight by using the on-board charger from a standard 230V grid.