One machine that really caught my attention at the recent MaskinExpo was this Take-Job, which for some reason unknown to me, is the brand name used for the Takeuchi product in Sweden. At first glance I thought it was the latest offering from Takeuchi the TB285 but when I got closer I noticed it was branded as a TB290. This machine was also one of only a handful of machines at the show that wasn't displayed with a tiltrotator on it.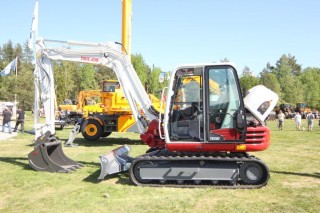 Also of great interest was this 5 ton Take-Job TB250 machine fitted with an Indexator tiltrotator, which also had a very useful and sturdy looking tipping trailer attached to it. The trailer is made by Swedish manufacturer Waldung AB and can be supplied with a hydraulic tipping ram or a lifting rope attached to the front of the skip that can be lifted for discharging the material by the towing excavator.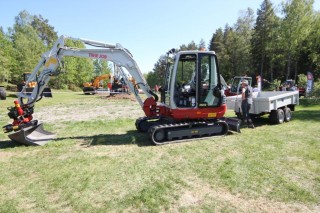 Another brand name we don't see in the UK is Lannen, a Finnish company who manufacture specialist articulated backhoe loaders. This Lannen 8800i was displayed complete with an Indexator tiltrotator.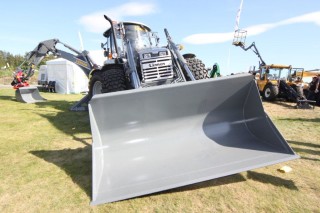 According to Lannen, this machine is the most economical backhoe loader on the market. It is powered by a 118kw, 4.9 litre four cylinder diesel engine, which meets all class 3B emission requirements. It has increased torque over the previous model, but offers a 10% reduction in fuel consumption.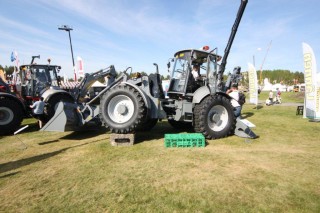 Also on display was this rail-road model which was displayed on a piece of dummy track.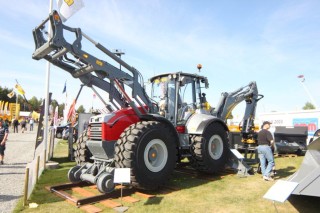 Danish manufacturer Hydrema also displayed examples from their backhoe loader range, including this 908D model. This machine has been purchased by Gasta Entreprenad AB and has been painted with some eye catching Road Runner & Coyote art work.
These articulated chassis machines offer incredible performance and scope of operation, with a backhoe operating range of 200o – 250o,and as seen in this shot when equipped with a tiltrotator, the ability to excavate at extreme angles is even easier. One would have to agree this is a very special piece of kit indeed.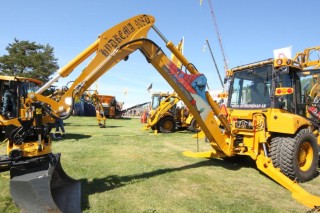 The Wacker Neuson stand was doing brisk business with many people keen to try out the company's latest offerings on the demo plot. One machine that caught my eye on static display was the company's largest excavator offering, the 14504. This 14 ton class machine is an ideal choice for today's civil engineering and groundworks contractor, combining all the power and strength of a traditional 14 ton machine, with the added value of an offset boom function, dozer blade and compact dimensions. This machine competes with the Takeuchi TB1140, which has proven to sell well in central Europe, but has not been so well received in the UK.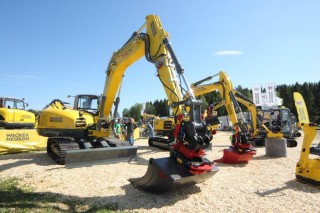 I could foresee a good future for this type of machine on housing sites in particular, but as is so often the case with items of plant and attachments in the UK, price is always a big issue.
Our Chinese friends are making considerable in-roads into the European market. This is very evident in Sweden, where the team from Liu Gong told me that they had attracted a lot of interest on the stand during the show. Operators were able to put a couple of products to the test on the demo plot, including this 906C 6 ton class machine that was fitted with a tilting grader bucket.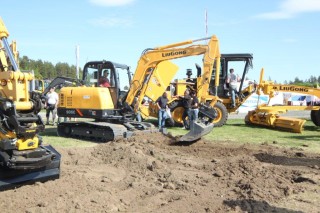 Also on display was the larger 915D, a 14 ton class machine that is powered by a Cummins 86kw (108hp) engine. This machine was also displayed on the demo plot with an Engcon EC15B tiltrotator.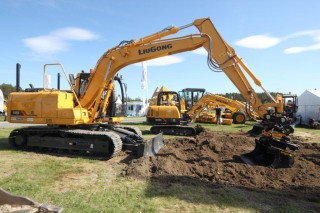 No visit to Sweden would be complete without a look at the Huddig. These amazing backhoe loaders are not cheap, but they really are impressive machines, which are aimed primarily at the specialist contractor. The latest model the 1260C was on static display.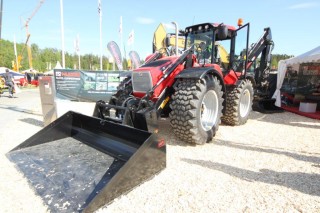 I will let the Swedes tell you more about the latest developments and design innovation on the new 1260C in this promotional video.
Our visit to Sweden was now rapidly coming to a close much to the delight of the long suffering Mrs Digger seen here!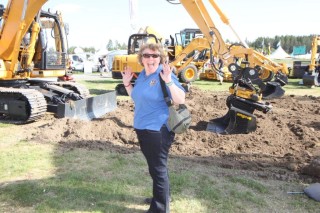 This was a fantastic Digger Blog assignment, and the Swedish people were amazingly friendly and helpful. The country is definitely somewhere I would like to visit again someday, and once again I thank all concerned for making our visit and enjoyable experience.