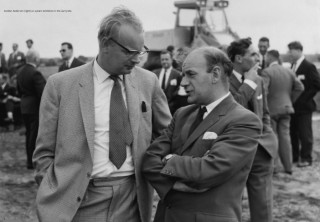 GAP 50 chronicles the development of the company from its inception to its plans for the future. It includes contributions from various Anderson family members, as well as long-serving employees, suppliers like Anthony Bamford and competitors like A-Plant's Sat Dhaiwal.
Gordon Anderson (right of picture, above, at a trade show in the early 1960s) was already 50 years old and a leading figure on the Scottish earthmoving plant hire scene when he set up on his own as Gordon Anderson Plant in April 1969.
Born in Bishopbriggs in 1919, one of his earliest jobs was running a riding school in Kirkintilloch. He served in the army during World War II before in 1947 joining Scottish Land Development, a plant hire business launched by Niall Hodge. In time, he became a director and minority shareholder, and married his secretary Joyce Taylor in 1952.
Along with the likes of Frank Lilley, Willie Logan, Willie Whyte and Niall Hodge, he founded the Scottish Plant Owners' Association and was its president for the period 1966-68.
In 1967 Niall Hodge sold SLD for £700,000 to the Wiles Group, which went on to be Hanson Trust. Gordon Anderson stayed with the company another 18 months before starting out on his own.
Gordon Anderson Plant began life in Linwood, near Glasgow, offering larger operated and non-operated plant for hire, including excavators, backhoe loaders, dump trucks and rollers. He turned over £150,000 in his first year. By the end of the '70s the company was a major player in Scotland, with three depots, 48 staff and turning over £865,000 in 1979.
Gordon and Joyce had three children. Daughter Maureen (now Smith) was clearly the brains of the family. She graduated in civil engineering from Glasgow University in 1975 and started in engineering before moving into teaching and becoming one of the first female engineering lecturers in Scotland.
Douglas (born August 1955) and Iain (December 1958) were more practical, doing up and selling old cars and motor bikes as teenagers. When Douglas left school at 17 his father insisted he 'gained experience at someone else's expense' before thinking of joining the family business. His first job was with Caledonian Tractor & Equipment (later to become Finning), where he spent four years in the parts department.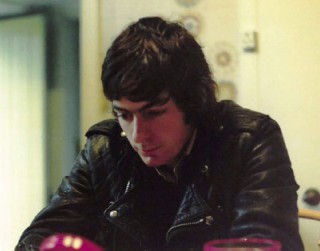 Douglas (above) joined GAP in 1978, initially on the hire desk in the Kinning Park depot. He then moved into sales before taking charge of the Prestwick depot.
In 1984, younger brother Iain (below) joined the family firm after four years with Hewden Stuart. Douglas handed Prestwick on to his brother and set up new premises in Edinburgh's Sighthill. While there, he seized the opportunity, with his father's backing, to acquire a Newcastle-based tool hire business Henderson Plant that was the start of the company's move towards UK-wide coverage. Iain took charge of the new tool hire division
Ever since the brothers became joint MDs in 1988, Douglas has been the strategy and business development driver, looking into the distance, while Iain has taken care of details, running sales and operations with a forensic eye for detail. You could almost call them 'Telescope' and 'Microscope'. Together they drew up a 20-year plan for nationwide coverage.

The brothers are pictured above in earlier times, and then below in more recent times in 2012.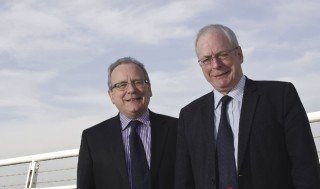 The acquisition of Henderson was transformational for GAP, doubling the size of the company, and with Henderson's three depots in England as well as three in Scotland, it took GAP south of the border for the first time. It also taught the brothers that tools and unmanned equipment was a much more profitable and less burdensome business than running operated plant.
On the back of the Henderson acquisition, the decision was made, to the surprise of competitors, to send to auction all equipment that needed an operator and refocus the business on unmanned plant and tools.
"At the time our competitors though we were in financial difficulty having to dispose of the operated plant and speculated on 'the end of the Andersons'. But undoubtedly it was one of the best decisions we ever made," Iain says.
Other acquisitions followed, including Joseph Thompson & Sons in 1990 in the northwest of England, Ace Hire & Sale on the Isle of Man in 1997 and J&S Plant of Lincoln in 2006.
Hard work and long hours have clearly always been an important part of the mix. "We are slightly unusual," Iain says. "We're happy to be up at 4am and in work before 5.30am because there are things to be done and we love doing them."
Gordon Anderson died in April 1996, aged 77, presumably secure in the knowledge that his legacy was inn safe hands.
Today GAP has 142 depots and close to 1,800 employees. Last year it turned over £195m.
The third generation is in the business today. Douglas' son Mark joined in 2008 and Maureen's daughter Karen in 2009. Iain's two older children James and Nicola then joined in 2016 and 2017 respectively. As has become the family way, all four gained a few years experience outside of the business before joining it. The first three opted for financial experience: Mark was a tax accountant with PwC; Karen a financial manager with General Electric and James with RBS. Nicola, however, took a different track. Just like her father before her, she started out with JCB, first at head office in Rocester, then with JCB USA and then in sales for JCB Compact Products.
GAP's 50th anniversary book is available to read online for free here.