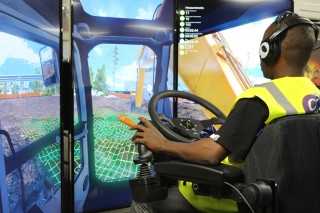 BAM Nuttall has brought seven local operatives from its Freetown Water Rehabilitation project in Sierra Leone to Bircham Newton to complete excavator and lifting operations training.
With the project being undertaken on behalf of the Department for International Development, all works must be completed to UK standards. To ensure the correct levels of competency and allow BAM Nuttall to employ local residents, seven operatives were chosen to attend a course at the National Construction College in north Norfolk. For all seven operatives this was the first time they had left Sierra Leone. I cannot imagine that Bircham Newton matched many of their preconceptions of what the UK was going to be like, but it certainly seems to have been a valuable visit for them.
Three of the operatives completed training on excavators, both tracked and wheeled, while the other four operatives passed the lifting operations programme, comprising a week of slinger signaller training, a week working with lorry loader cranes and two weeks of mobile crane operations.
"This is really important to the Freetown Water Rehabilitation project," says Ross Cawthorne, general foreman on the project. "We have no real way of showing competency in Sierra Leone and there's no training like this in Africa."
He adds: "This is life changing for the guys from Sierra Leone. They now have a proven European certificate of training and any employer, once we leave the country, would look at that very positively. I think they would be chosen for projects by other companies within Sierra Leone."
Before starting on any plant operations, the operatives spent two days in the CITB's simulator room (pictured above), becoming familiar with the controls and allowing trainers to assess their competency.
Braden Connolly, director of products and services at CITB, says: "It's been a pleasure to host the learners from the Freetown Water Rehabilitation project. I hope that the NCC's outstanding training and technology will have a positive impact on not only the operatives' careers but also their community in Sierra Leone."

Sadly, as I'm sure readers know, the Construction Industry Training Board is closing down its training operations to focus on setting standards and administering schemes and monies, rather than direct delivery.
It has put Bircham Newton and the National Construction College network of operations up for sale, presumably either for development or as a going concern. Whether Donald Trump wants to build the world's flattest golf course there or Elon Musk chooses to extend his philanthropy to construction training is anyone's guess. As the years pass, the less clear the future becomes.
However, it would be a crying shame if we lost this national asset – as the video above shows, it is too valuable in so many ways – but it seems worryingly likely that we might.