Terex will have more than 20 new and enhanced machines on display on what promises to be the largest and perhaps the most impressive trade fair in the world.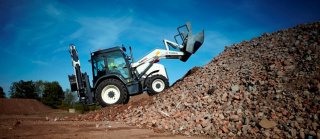 Features on the new loader include a curved boom, high-pressure hydraulics and a high-torque 74.5kW (100hp) engine for improved tear-out forces and cycle times. The curved boom design allows trucks to be positioned closer to the machine for short loading cycles and a new 'Deep Dig' innerslide extending dipperstick speeds working.
A new rear axle with outboard planetary gears gives the TLB890 a 41km/h maximum travel speed, while large diameter wet disc brakes reduce pedal effort.

We first looked at this back in December, but.. if you missed it… more details can be viewed here.