The road job in question was the A30 Innes Downs to Indian Queens improvement works in Cornwall, which I was working on during the Summer of 2006. Main contractor on the site was Alfred McAlpine, who as ever produced the goods in record time and ahead of schedule. There was however, the inevitable moments of drama that can happen even on the best run sites, like an excavator hitting a live water main!
I was working further down the construction site on a Volvo EC210LC "trimming batters", but as is usual in such instances word spread quickly around the jobsite that a machine had took a valve off one of the main water lines into Cornwall with spectacular effect.
In no time the area was "awash" (forgive the pun), with high ranking personnel in new shiny Hi Viz clothing, scratching heads and offering advice on how to deal with the problem.

Details were sketchy, but I was lead to believe that the main continued to leak for 2-3 days before it was finally brought under control and repaired, in the meantime the un-intentional lagoon of water that was formed became a very valuable source of water for the numerous dust suppression units that were in constant use around the site.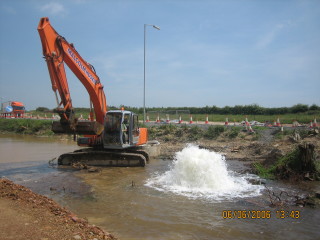 Thankfully, thanks to forward planning and risk assessment strategies, such incidents are fairly rare these days, so please don't have nightmares!
On a different note those of you that have followed the Digger Blogs coverage of Turkish backhoe loader and excavator manufacturer Hidromek, will be delighted to hear that I have been invited to visit a site locally next week to try out the company's latest Gen Series excavators. So without doubt something to look forward to in the coming weeks.