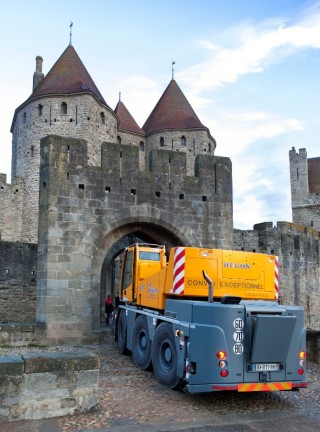 The historic town of Carcassone in the south of France is a Unesco world heritage site. It is basically a medieval fort that has change little over the centuries. It's not the kind of place that you want to be creating any damage. So driving a crane through its streets sounds like a job to be avoided.
Fortunately grutier ('crane driver') Fabrice Bresson was up to the task, aided by the compact dimensions of his Liebherr LTC 1045-3.1 and the frantic signalling of the two marshals he brought with him to guide him through the 800-year-old town.
Bresson works for the crane company Hugon. He is used to the narrow streets of Narbonne and Perpignan, but this was something else.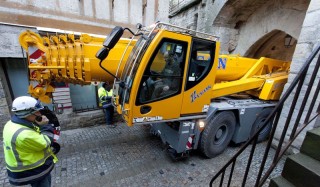 To squeeze through the citadel he had a few adjustments to make. The cab was moved close to its working position and the storage box on the front of the vehicle was taken off. This reduced the length of the vehicle by more than 120cm.
The flashing light on the ballast block was also unscrewed and the telescopic boom lowered. The crane was set to crab steering speed, all-wheel steering and independent rear axle steering.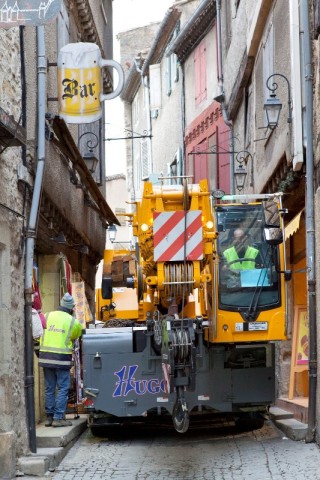 Amazingly, not a single stone was touched (or so they tell us…)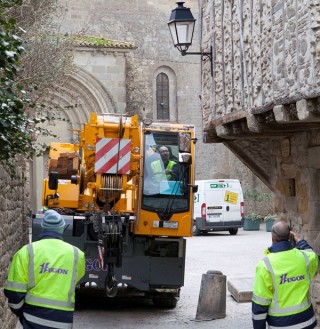 "Carcassonne is actually a UNESCO World Heritage Site. Making a mistake like touching the walls was simply unthinkable", says Christophe Vergès from Hugon's technical team, who was one of th marshals.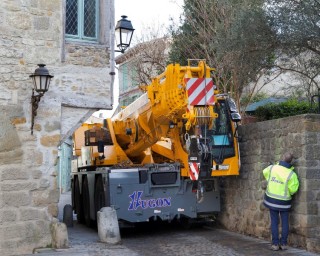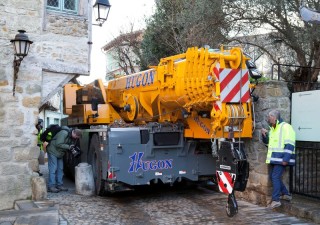 Thirty minutes after entering the citadel the crane had inched its way the 400-metres to its destination.
The actual lifting job that the crane had to do was rather dull by comparison – just a couple of one-tonne distributor boxes to be raised on to a flat roof and old ones removed. But the crane only had a one-day permit so had to be in and out by the evening.
While the morning trip through the streets had taken place before the tourists were up, the evening streets were rather busier, making things a bit trickier. It was quite late in the evening before Bresson and his crane were back home in Narbonne.