Tony had been looking to add a 360degree excavator to his portfolio for some considerable time and after operating a JS 220 for a few weeks, he decided to look into purchasing a 13 ton model. Tony managed to source a 2010 model JS130LC with only 700 hours on the meter, which was on the fleet of WH Bond & Sons plant hire, whom we featured on the blog a couple of months ago. A deal was struck through Bond's machinery sales division and the machine was delivered to its first job in Bodmin.
The job, which involved digging out and shaping a pond, has been very challenging in terms of ground conditions, and it was heartbreaking to send the new machine into such boggy conditions, with the mud often totally engulfing the tracks, but the job is now well on the way to completion and so far Tony has been delighted with his latest acquisition.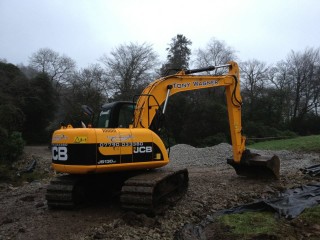 Speaking about his latest machine Tony said, "I initially chose the JS130 because of its availability, as there is a shortage of good quality low houred machines, I decided to give the JCB a go. Bonds have looked after me well, with a lot of my machines having been bought from them, so I had no hesitation in dealing with them again"

Tony continued, "The JS 130 fitted with the Isuzu engine is excellent on fuel, and with the rising price of diesel that is a real bonus. So far I have been very impressed with the machines overall smoothness of operation and positivity in the tracking movements. I also like the fact that it has the 3 speed tracking button on the right hand joystick which is a useful addition, this one also has air-con fitted which I believe is not a standard option on this size JCB machine. If I could add one thing to the cab fittings, it would be a radio mute button on the left hand joystick."
The machine has also been fitted with rubber street pads, which will enable him to be more flexible as to the type of work he takes on for the machine. Tony does a lot of work for another Liskeard based company, WBM Groundworks Ltd, who are very active on major road works contracts and infrastructure projects in the South West, the addition of the rubber street pads will be invaluable on that type of work.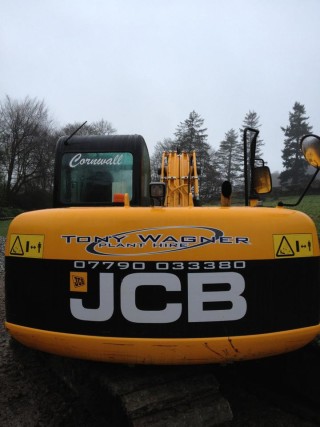 The JCB adds yet another element to the fleet, which currently consists of a Volvo BL71 Plus backhoe loader, Case CX22B mini excavator, Volvo EC15B mini excavator, Kubota KX71-2 mini excavator, Thwaites 1 ton high lift dumper and a Benford 3 ton dumper. The company can also supply CPCS accredited plant operators throughout the South West on a daily, weekly or long contract basis.