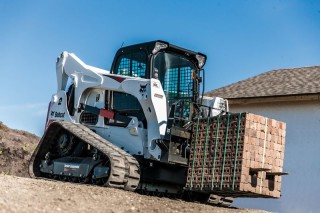 The new undercarriage has torsion axles that dampen vibration, combining the comfort of roller suspension with the stability of a solid mount undercarriage, Bobcat says. The new suspension system not only makes life more comfortable for the operator, it says, but also reduced wear and tear on the machine.
In addition, the new version of the T870 offers 10% more lift capacity than the previous roller suspension model and comes with a range of standard and optional features.
Other claimed benefits include reduced vibrations and noise inside the cab, increased stability with superior grading and ground engagement characteristics, increased flotation and reduced ground pressure with increased ground contact.
The five-link torsion suspension undercarriage minimises rocking when lifting a load high or when performing grading tasks. An additional link on the rear axle stabilises the system to address rocking and bouncing.
This fifth link evidently acts as an independent suspension, increasing ride comfort and reducing the rocking effect that is typically associated with torsion suspensions.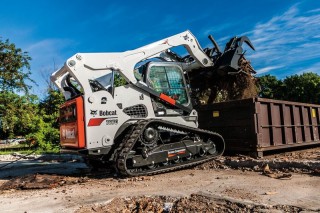 Improved comfort and ride quality also result from the use of dual-flange front idlers that ride on the rubber track's roller way, Bobcat says. The rollers and the dual-flange front idler ride on rubber to dampen vibration. They are also wider, maximising contact with the track for a smoother ride. The larger circumference of the rear idler provides more surface area for less wear per rotation, which also adds to overall component life, it is claimed.
The larger rear idler is positioned further back within the undercarriage system, getting more downward force to the cutting edge of the bucket or attachment. The added diameter of the new rear idler provides optimal contact with the track, which maintains tension and protects against de-tracking.

Longer tracks provide increased flotation and reduced ground pressure, by increasing surface area and ground contact for better flotation, ride quality and improved performance in soft conditions.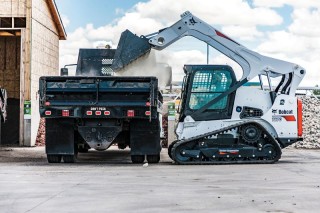 Bobcat also boasts of the durable design, with forged steel idlers guiding and supporting the track around the ends of the undercarriage, and hydraulic hoses routed inside the undercarriage for protection. Where other manufacturers rely on layered, welded steel, Bobcat undercarriages have a solid, cast-steel front roller and idler mount design.
The self-contained axle system contains an inner bar surrounded by four rubber cords. The inner bar is heat-treated for maximum strength, while undercarriage bushings and seals are made from high-grade steel.
The new Bobcat drive motor is said to be more reliable than before and it is easier to maintain. The outer bearing life has been improved by continuous lubrication from oil in the hydraulic system. The diameter of the drive shaft inside the gearbox is also 15% larger than before, enhancing durability. The outer cavity reservoir housed within the new drive motor is now easier to flush and fill with the addition of two service ports that can be accessed without removing the track or sprocket.