Like so many older plant men, Malcolm comes from the golden era before the excavator was king on sites and has fond memories of working with the track shovels like this example, an International Drott 175, seen here in action loading old wooden sided trucks. I love the addition of the umbrella to keep the operator in the shade!
Next up two shots of a Caterpillar 933F in action somewhere in New Zealand, this model was initially introduced into the US market around 1958 and production began a year later in Australia, which would probably have been where this machine was manufactured.
Note the spark arrestor on top of the exhaust stack, essential when working in tinderbox dry conditions often encountered down under.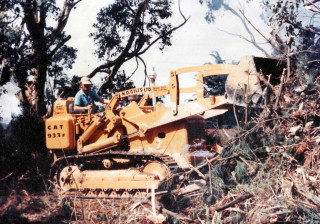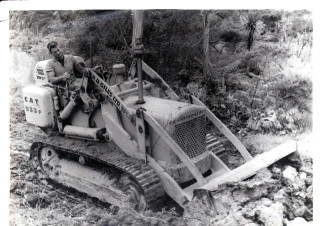 Last but not least in this batch from Malcolm, is another International model, the smaller 100B
We thank Malcolm for sharing these photos, as I know from the emails I have received, just how much you all enjoy seeing the old classics from our earthmoving heritage here on the Digger blog.
Don't forget you can now contact me through the new Digger blog at nick@theconstructionindex.co.uk