Back in the 50's, 60's and early 70's, the tracked loading shovel was king; used on a daily basis on a whole range of applications including general site clearance, bulk earthmoving, demolition and in an expert operators hands, even trimming of type one road stone.
Although many of the jobs they used to perform have now been taken over by the 360 degree excavator, the tracked loading shovel still has a valuable role to play on many sites around the world.
This first photo from Caterpillar which was taken around 1932, shows one of the early developments of this type of equipment. This mechanical looking "shovel loader" device, which was invented by Anderson Bros of Port Richmond, Staten Island and is fitted to a Caterpillar fifteen tractor, equipped with a ½ cubic yard bucket.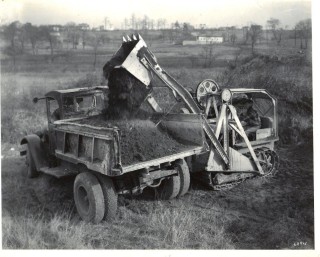 This next model from the Caterpillar stable is a 1956 model 933 "Traxcavator", which was owned by British mining outfit Sir Lindsay Parkinson & Co Ltd.
This machine was used for removing partings from the top of the coal seams on opencast mining operations near Rotherham in England.
This offering from International Harvester was snapped at work in 1964 for West Country plant hire outfit Whites, which today trades as Broadhempston plant hire.
The 250 was Internationals' largest tracked loader and was fitted with a 2.5 cubic metre bucket. They were often compared in size to Caterpillars 977 models.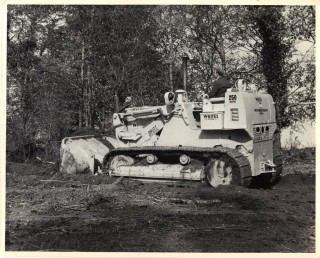 Not so often seen in the UK this John Deere 450B from the early 70's would have been sold and distributed in the UK by Blackwood Hodge - no doubt our friend Tom Aspin will have tales to tell about these machines from the days when he was demonstrating them.
Back up in size again now with the "beast" that was Caterpillars 983 track shovel, this large capacity loader was first introduced in 1969 and was based on Cat D8 components. It carried a huge 5 cubic yard bucket, but was prone to front idler problems due to the massive weight on the front end of the machine.
The example in this photo is equipped with a special demolition rig bucket.
JCB created something of a revolution in 1971 with the launch of the first fully hydrostatic driven tracked loader, the 1.25 cubic yard 110. The design was way ahead of its time with independent control of each track, and the engine mounted at the rear which gave the operator an excellent view of the front bucket. This concept has really become the benchmark for modern crawler loader design since the 1990's, even though JCB had phased out production of their models in 1979.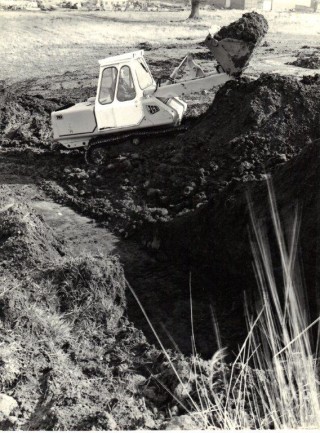 To round off this selection from our archives, here is a photo of one of Caterpillars smallest track loader machines from the past, the 1 cubic yard Cat 931, which was launched in 1972 and was based on Cat D3 dozer components. It was powered by a Caterpillar 62 hp engine, in fact the same engine was shared with the D3 and 910 wheeled loading shovel. After a series of upgrades to B and C versions, the model was eventually phased out in 1993.
If you have any requests for machines from our earthmoving past, please let me know and I will do my best to bring them to you here on the Digger blog.