Mike Smith's fourteen year old business has evolved from general contracting and earthmoving into a highly specialised provider to some of the most prestigious golf clubs the length and breadth of the country. Ninety five per cent of the contracts the company undertakes involves the renovation and alterations to existing golf courses as well as the construction of brand new venues. "The very nature of the work we undertake demands equipment that has smooth control, good grading capability as well as good productivity for bulk earthmoving," says Mike Smith. "The Volvo product does just that in our opinion and that's the reason we've opted for another fourteen ton model for the fleet."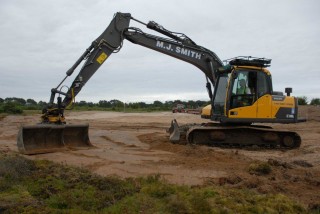 Starting up with Samsung excavators Mike Smith's fleet of equipment made the simple move to the Volvo branded excavators operating both 14 and 21 tonne models. The new EC140D replaces a three year old C model but this time the machine has been supplied with a factory fitted heavy duty dozer blade which will enhance the capabilities of just one machine on site. "We also run dozers in the fleet, but on many jobs bringing one in specifically for a relatively small job can be cost prohibitive so we see the benefit of the machine and blade combination as a positive move forward," continues Mike.
The new EC140D is powered by a Volvo four cylinder D4H Stage IIIB engine developing 114hpwhich contributes to anexcellent performance being well matched to the machine's hydraulics. The machine's 'Integrated work mode control' provides high efficiency, rapid dig cycles and low fuel consumption. This advanced mode control system ensures the maximum possible hydraulic horsepower available is delivered at a constant engine speed under varying load conditions. In addition, boom and arm geometry provide highly competitive digging forces and lifting capacities, which makes for faster work cycles. Hose rupture valves are fitted as standard to the boom and dipper cylinders as are quick fit hydraulics and a hammer/shear service. The optional dozer blade features a generous lift height of just over half a metre and a dig depth of 575mm.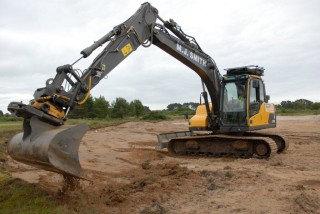 The Volvo Care Cab offers a large roomy interior with plenty of leg room and foot space. The excellent all round visibility is enhanced by pressurized and filtered cab air supplied by a 14 vent, climate control system. An adjustable easy to read LCD colour monitor provides real time information of the machine functions, important diagnostic information and a wide variety of work tool settings. The monitor also doubles as a monitor for the rear view camera. An optional heavy duty guard has been added to the front windscreen and top of the cabin to prevent damage from brash, branches and other site debris.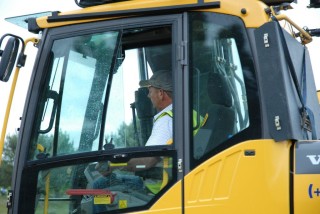 The new EC140D's specification has been further enhanced by Mike Smith's existing Engcon rototilt head and specially designed grading buckets which have proved their worth for the typical applications his company undertakes. The 360º flexibility transforms the operating characteristics of the machine especially working on course profiles.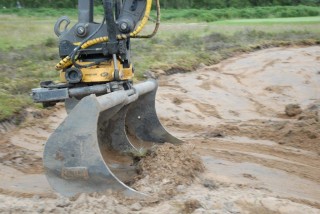 M J Smith is a family run business based in Okehampton Devon providing a complete service in golf course, landscape and sports field construction from design through to finishing services.