One has been bought recently by Lovell Stone Group for its recently acquired Hartham Park underground quarry in Corsham, near Bath.
Weidemann has been producing compact Hoftracs, wheel loaders and telehandlers for more than forty years. Since production first started, more than 95,000 loaders have been produced in the main factories in Diemelsee and Korbach. I am told they are popular with farmers and landscapers in Central Europe. Weidemann was taken over by Wacker Neuson in 2005.
Lovell Stone has five quarries across southwest England and the new facility will produce premium Hartham Park Bath stone with a potential capacity of up to 4000 cubic metres per year.
As part of a capital investment program at Hartham Park, Lovell Stone bought a Weidemann 2070CX50 articulated loader from local dealer New Forest Farm Machinery. It is powered by a Perkins diesel engine developing 35.7 kW @ 2600 rpm driving all four wheels via a two stage 20 km/h (12 mph) hydrostatic transmission. Weighing in at just under 3.3 tonnes, it has a maximum tipping load of 2058 kg and a maximum pivot point reach of 3222 mm.
The previous operator of the quarry had used a skid steer loader for the lighter duties involved such as moving small blocks of stone and general fetch & carry duties. But following trials of various machines the Weidemann was chosen for its lift capacity, stability and build quality.
The quarry workings at Hartham Park are some 20 metres underground and the only access is via a steep ramp up which stone blocks are winched on a wheel-mounted trolley. Unlike some of the larger equipment used in the mining operation, the Weidemann machine was small enough to be lowered down the shaft without the need for dismantling.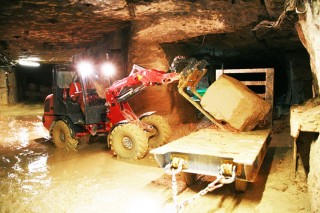 Managing director Simon Hart said: "We are really pleased with the machine which, besides being very well engineered and having an excellent power to weight ratio, came with a three year warranty which was very appealing to us for peace of mind during the early years of operation on the new site."
The Hartham Park quarry also has a new state-of-the-art Fantini chain saw for cutting Bath stone (pictured below). Fantini also made parts for the Large Hadron Collider at the CERN nuclear research centre, so Lovell Stone clearly has certain standards when it comes to specifying equipment.