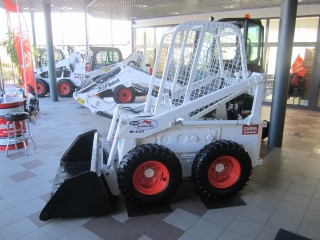 The M-600D was first introduced to the Bobcat range in 1967 and was in production until 1975.
What makes this refurbished machine a rare find, Bobcat says, is that it was not manufactured at Bobcat's traditional base in North Dakota in the USA, but instead under licence by Scheid Maschinenfabrik GmbH in Germany.
This machine was found on the internet by Ivars Gailums, a director at Kono, the Riga-based dealer for the Bobcat range in Latvia. It had been put up for sale by a used equipment trader in Berlin.
In the Europe, Middle East and Africa (EMEA) region, the M-600D was first manufactured under a licensing agreement signed with Beltrami in Ravenna in Italy. In 1970, production of Bobcat loaders, including the M-600D, was transferred from Beltrami to Scheid Maschinenfabrik in Aumenau in Germany.
Bobcat says that Kono's one must have been made between 1970 and 1972, when the decision was made to transfer all manufacturing back to the USA.
It has taken two years' work to complete the renovation job by Kono's service team, helped by a recently-retired Bobcat service manager, Robby Bosch, who had been with the company for nearly 40 years in various roles.

"The first thing Robby asked me was whether or not the rear counterweight was still present, as this tends to be the first component that disappears," Ivars Gailums says. "Fortunately it was still in place. Over the last two years, Robby has generously continued to provide valuable advice, as has Jurgen Gremez, Bobcat Institute Director for Doosan Bobcat at the EMEA headquarters in Dobris in the Czech Republic."
The biggest challenge was getting the right parts, which because of the age of the machine are no longer available to order. It was also tricky to find out what the M-600D exactly looked like, as there were several engine variations that affected how the overall machine appeared.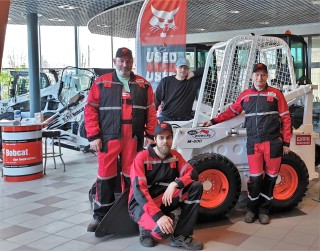 "I have focused on every aspect – even whether the bottom of the seat was one piece or sewn together, as well as the colour of the bucket, they are all important to me," Ivars says. "On the internet, the book published to celebrate Bobcat's 50th anniversary had pictures of machines with buckets painted white. Again, thanks to Robby Bosch, who was able to answer questions like this about the M-600D."
He adds: "Demonstrating Bobcat's 'One Tough Animal' motto, several components such as the chaincase and chain had survived the years of service in pretty good condition. But the engine cooler on the Deutz engine presented a real problem as the original was heavily corroded and it was not available as a spare part. But we managed to get it from Deutz, where it was also one of the last parts of its type in their stock.
"Sandblasting and powder coating services were outsourced and the leather seat was restored by a company which specialises in restoring old motor vehicles and rebuilding expensive modern cars. I also involved family members to get some unique spare parts – including a shaft, the air filter cap and authentic Melroe Bobcat and Clark stickers from the USA. In the period when our M-600D went into service, it would have carried stickers for Melroe Manufacturing Company, the forerunner to Bobcat Company, the Bobcat 'animal' logo as it was then and the logo for Clark Equipment, who bought the rights in 1968 to sell Bobcat loaders outside the USA."