The Mayon volcano near the city of Legazpi is one of the most active volcanoes in the Philippines. While volcano soil is extremely fertile for farming, lava flows are always a hazard. In addition, the wet season from July to December poses challenges with the high volume of rainwater and debris it brings from the volcano.
To alleviate this, the local government financed construction of a network of spillways around the volcano, to direct the flow of rain, debris and lava.
The spillways also keeps sustain local economies by ensuring that valuable aggregates found within those lava streams are safely contained. In addition to diverting rainwater and lava from the villages, the spillways also preserve the sand and stone that erupt from inside Mayon. The high quality volcano aggregate is collected and sold onwards to local construction industries.
Four heavy-duty Volvo EC210D excavators have recently finished building the spillways for this particular project with Sunwest Construction & Development Corporation, but other Volvo machines are still hard at work around Mount Mayon with another contractor.
"The fear of an eruption is always present among the villagers and they are really grateful that these spillways are being constructed," says Sunwest foreman Joel Banzuela.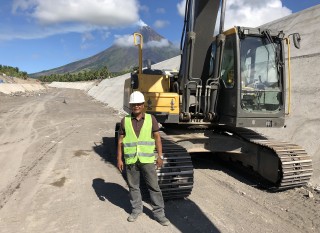 At one of these spillways at the foot of the volcano, Sunwest used four Volvo EC210D excavators to manage the construction work. The machines worked around 10 hours a day, removing earth, preparing the ground for foundations and working with pile hammers to drive steel sheet piles. This particular 5km spillway was completed at the end of 2019.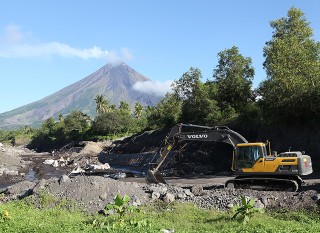 "It doesn't matter how tough the job, the EC210D always delivers power, performance and reliability," says Sunwest operations manager Noli Espartinez. "They are also really versatile and with great swing speed and stability."
Besides buckets and pile sheet hammers, the EC210D can also be fitted with a selection of hydraulic breakers.
"We like that the EC210D offers a variety of attachments to support different applications. This is important for us as we can use the machine on a wider range of projects," Noli Espartinez says.
Sunwest today has more than 80 units of the Volvo EC210D in its fleet alongside a large number of other Volvo machines. Service and support is provided by Volvo´s distributor in the Philippines, Civic Merchandising, which has a service branch in Legazpi.