It's often said that Volvo were one of the trailblazers in the articulated hauler market, one of the company's first offerings was the 4 wheel drive DR631, which was introduced in 1965.
In 1968 the company launched the DR860, which was something of a revelation, and brought the ADT concept to the fore. These Volvo powered 150 horsepower machines had a capacity of 20 tons. In this photo from the Digger Blog archives, we see two examples working in conjunction with a 22RB dragline. Also of note in this photograph is an old Poclain excavator working in the distance.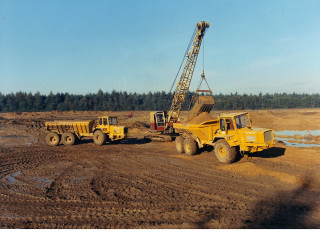 These trucks were of a 6x4 design, featuring a powered front axle and powered front tandem axle, the rear axle was trailing. This model was eventually upgraded in 1970 to the DR860A, but it would be nine years before the machine was replaced by the DR861in 1979. This was to be Volvo's first all wheel drive truck, something which is very much an industry standard today.

So here is the video, apologies for the sound quality and foreign language, I don't think it detracts from the film too much. Still a great little movie, and to think these trucks were cutting edge in their day!