Having acquired the sand & gravel pit and concrete batching and distribution business of C& G Concrete in July 2011, the need to improve the output from Norton Bottoms quarry with a new long-reach prime mover was identified by the new owners. "The Norton Bottoms operation is a critical piece of the jig saw in supplying the other newly- acquired batching plants and it became immediately clear that a larger capacity machine was required," said Operations Manager Carl Ashurst. And having made a competitive evaluation of the market place, Breedon Aggregates opted for Volvo's flagship excavator, the EC700C.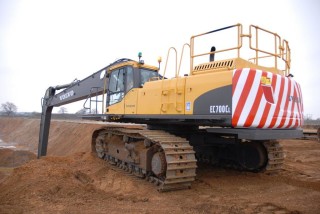 "The overall package on offer from Volvo and the specification of the EC700C, including the attention to detail with regard to on-board safety features and a highly acceptable operator's environment, tipped the scales in Volvo's favour," he continued.
Replacing a venerable 1996 Akerman EC650, the new EC700C has been supplied with a bespoke 20m digging rig designed and manufactured by Messrs Kokurek of Ipswich, complete with additional counterweight and a 1.6m³ digging bucket. Whilst the majority of sand and gravel extraction is above the water table, the bucket pins and bushes have been sealed with protective caps to prevent the ingress of dirt, water and sand. Working on bench heights averaging between 7 and 9 metres, the EC700C still has plenty of reach and added capacity to keep the field hopper at maximum capacity – the quarry aiming to increase annual production from around 300,000 to 400,000 tonnes per annum.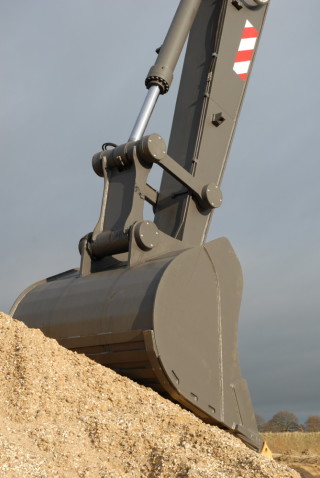 Health and Safety is of paramount importance to Breedon Aggregates and the EC700C has been supplied with robust safety rails around its superstructure and a bespoke hydraulically-retractable ladder has been installed for safe and easy access to the cab by the operator.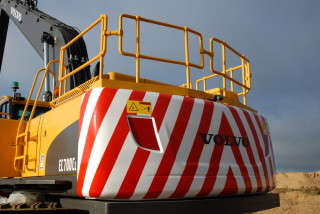 The ladder is retracted as soon as the hydraulic control lock out in the cab is activated yet the machine's hydraulic system remains inactive until it is raised completely to the stowed position.

Both the internal and external noise levels are a distinct improvement compared to the outgoing machine and there is the expectation of much improved fuel consumption over the old 65 tonne machine.
At the heart of the EC700C a 16 litre Tier III V-ACT engine, developing 430 nett hp operates in conjunction with an advanced mode control systemensuring the maximum possible hydraulic horsepower available is delivered at a constant engine speed under varying load conditions. A maximum torque of 2250Nm is achieved at just 1350r/min and this, in conjunction with the machine's advanced hydraulic system, ensures maximum fuel efficiency is achieved through every work cycle.
The EC700C supplied to Breedon Aggregates has also benefitted from the fitting of an automatic greasing system and the all up operating weight, including the digging rig and additional counterweight, is 77.5 tonnes.
The team at Volvo have also produced this exciting video which shows this stunning machine in action.