Simone, used to work as a corporate meeting planner, promoting the city of New Orleans to important visitors with a passion and flair one would only find in the southern states. That was until the awful events of August 23rd 2005, when Hurricane Katrina struck the city, bringing with it winds of 175 mph and widespread flooding causing an estimated damage bill of 81 billion US dollars. Simone's line of work suffered terribly after the hurricane and sadly she was laid off. With her own and other family members homes flooded and destroyed, Simone had a vision and from all the despair and destruction around her, Demo Diva was born.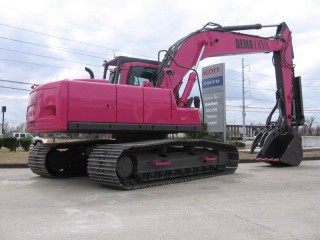 From what I have read and been told by colleagues here in the UK, Simone has an incredible eye for PR and marketing, which is clearly evident in her chosen colour for the machines and the Demo Diva company in general. Simone worked hard in those early days to promote her fledgling business, having cards and flyers printed which she distributed by placing on windshields of cars in parking lots in and around the residential areas of Louisiana.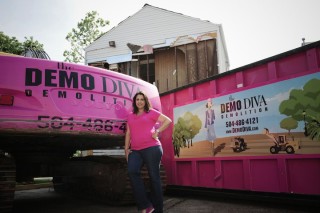 The rest as they say is history, and the company is certainly making some waves in the demolition industry with its unique approach. The all women office team consists of Simone Bruni (owner), Bethany Thomas (sales and customer service), Lauren Womack (sales and marketing manager) and Rhonda Lange (insurance claims manager), the line up is completed by a highly experienced team on the ground, which is headed by "Tank", who is the senior equipment operator on the company. Tank also worked previously on the demolition site at Ground Zero, which must have been a very sobering experience indeed, so I guess you could say he has seen it all during his time at the controls.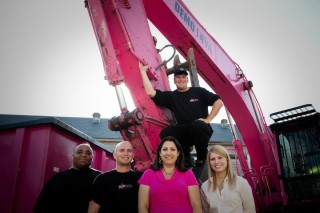 Demo Divas mid range Volvo excavators were all supplied by their local dealership Scott Equipment, and come fully equipped with full demo package including full cab cage guard, side guards, hydraulic ram protection and rear view camera, also included is the popular American "thumb" attachment for gripping and handling of materials.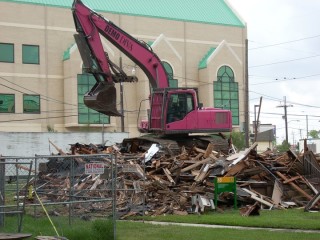 Initially the dealership tried to talk Simone out of having the machines sprayed pink, saying that resale value would be affected with the machines being that colour, but thankfully Simone stuck to her guns and now all the company's excavators get the pink treatment. I personally think it's a great piece of advertising at the end of the day, I mean how many company's do you know who run pink machines?

The business continues to go from strength to strength and having started in residential demolition in Louisiana, Demo Diva has now expanded to the Mississippi Gulf Coast and has also moved into the commercial demolition sector and selective interior demolition.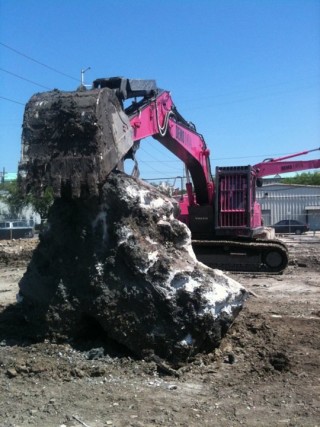 Having trade marked the Demo Diva Demolition name, Simone has big ambitions of taking her business to the world. She sent me this photo of her big vision. A Demo Diva machine working in the Saudi Arabian desert!
Check out this latest promotional video from Demo Diva featuring the company's catchy slogan "Takin it down to the dirt"
The Digger Blog wishes Demo Diva demolition continued success in the future.