My initial involvement with these products came about when I was working on Hampshire based Graceland's Civil Engineering sites. Graceland's were big Samsung customers and ran a fleet of the Korean machines including a number of SE130LC-2's, one of which I was operating for a while. The example in this shot was owned by my friend and sub-contractor to Graceland's Ian Birkett.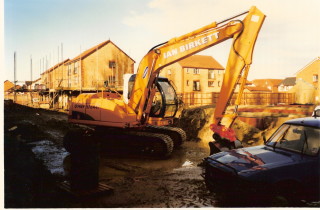 In 1998 Samsung Heavy Industries Construction Equipment division was acquired by Volvo and the rebranding of the machines commenced. It was a natural choice for Gracelands to continue to run the products that had served them so well. Here is an example of an EC140 which I also operated for Graceland's for a while.
I have always had a great relationship with my local Volvo sales representative down here in the South West, and have been fortunate enough to arrange some demonstration machines for potential customers to try out. Whilst operating another manufacturer's machine on a site in Okehampton for Matt Troup & Son Ltd, I arranged for them to try out this Volvo EC140B model for evaluation purposes. The cab on the B Series was amazing and the latest C and D series cabs are a machine drivers dream!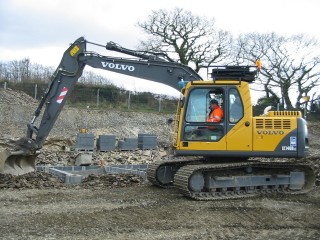 My next encounter with a Volvo excavator was when I returned from a spell of work in Cambridge and went to work on the A30 Bodmin to Indian Queens improvement works in Cornwall. The job was supposed to be 2 weeks operator hire, on a Volvo EC210 for local earthmoving and agricultural outfit Luke Furse, but I ended up staying for over 7 months on this machine.
I returned to Luke Furse at a later date to operate his EC210BLC model on hire to Bolton based AE Yates Civil Engineering Ltd on a water pipe contract in Dawlish. This was another good job which went on for some months. The B Series EC210 was a nice machine to operate with silky smooth hydraulics and plenty of speed and power when needed. I just could not fault the machine which I believe is still in the Luke Furse fleet today.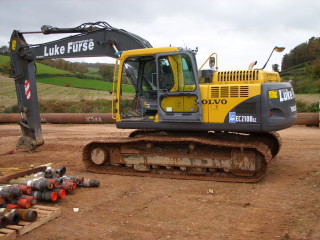 The last Volvo excavator I operated was one of the new EC140C-LC models which I arranged to be demonstrated at the Duchy Agricultural College in Stoke Climsland in Cornwall, I was heavily involved in some of the setting up for a new plant training facility of which I was hoping to take on the role of plant trainer, unfortunately I had to turn the position down as I could not afford to take the large drop in salary!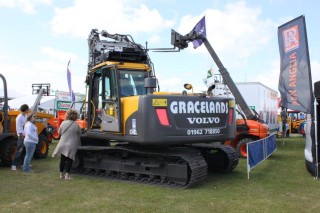 The C Series machine, an example of which can be seen above on display at the Royal Cornwall Show, really impressed me and fellow operators who came along to try it out at the time, it was an abosolute pleasure to operate. I must admit I am looking forward to trying out a new D Series model in the not too distant future so look out for a full report here on the Digger Blog.
In the meantime take a look at this excellent promotional video from Volvo which shows some of the latest developments on the new D series range.