As existing users of Volvo utility equipment products namely the 1.5 tonne EC15B's and a larger 3.5 tonne EC35, proprietor Rob Taylor has enjoyed good reliability and performance from his machines. "The Volvo product looks right in terms of the build quality with good access for servicing and to be honest I can't really fault them," he said. "Besides that they stand out against the crowd in terms of their aesthetics and striking yellow and grey livery and I'm particularly impressed with the new EC27C's we've just purchased," he continued.
Joining a mixed fleet of equipment including Volvo mini excavators, site dumpers, compaction rollers and a host of small equipment and tools for hire, the relatively new EC27C replaces the previous EC25 and EC30 models. Powered by a Volvo 1.6 litre low emission Tier III the machine delivers the performance in the range of the previous Volvo EC30 – yet with a compact design reminiscent of the smaller EC25. The conventional excavator design provides exceptional stability along with minimal superstructure swing.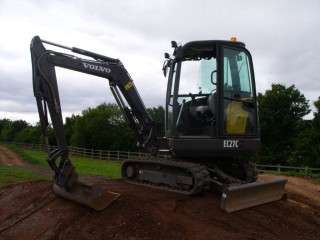 Photo Digger Blog archive
Simultaneous control of slew and offset movements provides faster, more precise performance due to the right joystick control lever that features an electronically proportional roller. This allows the operator to accurately adjust hydraulic flow as needed. All hydraulic functions are performed in total independence for more control and less delay when handling multiple tasks. An automatic two-speed travel system engages when operating in high speed mode, automatically shifting gear from high to low according to the travel load.
Another feature for increased efficiency is the standard auto-idling system that lowers engine speed to idle if a control is not used for five seconds. The engine reverts to the pre-selected speed almost instantly when any control is moved. This system delivers lower fuel consumption, longer engine life and less environmental noise.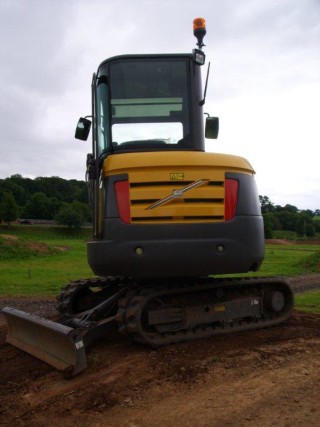 Photo Digger Blog archive

The EC27C features Volvo's industry-leading comfortable cab for less fatigue and more production. The ergonomically-designed cab offers greater leg and foot room, making it one of the most spacious in its category. Optional air conditioning with an included heater is also available, for year-round productivity in hot, humid or cold climates.
Castle Plant & Tool Hire was acquired by its current owners in 1995 having twenty five years of experience in general contracting and ground works contracts. The company still offers a contracting service alongside its day to day hire and rental business and is located on the outskirts of Sidmouth, Devon servicing the local community and Devon at large.
Plant & Engineering Services of Beare near Exeter Ltd is the dealer for Volvo utility covering the south west of England.