Established in 1987, Powell Plant & Contractors has built a sound reputation in general groundworks and landscaping contracts, specializing in the construction and maintenance of golf courses and undertaking unique projects on behalf of the National Trust. Since purchasing his first Volvo, an EC140BLC back in May 2004, Will Powell has owned and operated a succession of Volvo excavators and compact excavators and has now opted for Volvo's reduced swing ECR145CL.
"Typically for the majority of work we do we need the compactness of the reduced swing machine and whilst the ECR88 has been a good all round performer we needed to go one size larger," explained Mr Powell. "I'm really impressed with the balance and stability of the ECR145 - it certainly exceeds my expectations."
The ECR145C supplied to Powell Plant has been equipped specifically for the typical contracts the company undertakes and includes a dozer blade, hammer-shear circuit, additional piping for slope bucket and rotator, hydraulic quick fit and a selection of end attachments including ripper tooth, 70" tilt bucket, and general purpose buckets.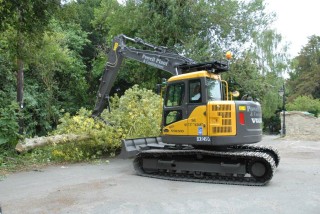 The machine has also been modified to accept a grapple for forestry work. At the heart of the machine a 4 litre Tier III engine developing 94 nett hp operates in conjunction with an advanced mode control system ensuring the maximum possible hydraulic horsepower available is delivered at a constant engine speed under varying load conditions.
Each track is powered by an automatic two speed shift travel motor providing a maximum drawbar pull of 119kN on gradients up to 35º. Equipped with a 4.6m boom and 3.0m dipper arm, the maximum reach is a generous 8.8 metres and lifting capacity across carriage at full reach is an impressive 1.69 tonnes. The machine's balance and stability is enhanced thanks to the fitting of 700mm track pads and dozer blade giving an operating weight of 16 tonnes.
Will Powell also has machine #8 on order - another Volvo ECR28 zero swing compact excavator from Trackers Plant Sales Ltd - Volvo's utility equipment dealer covering Kent, Surrey and Sussex, which will run alongside his ECR145.