This Volvo EW160C is owned by highly respected and professional South West company, B.T.Jenkins Ltd, who offer a full range of services including contracting, plant hire and crushing and screening. The company operates throughout Devon, Cornwall, Somerset and Dorset, and its many regular clients include regional and visiting national contractors as well as County and local authorities, local business and landowners.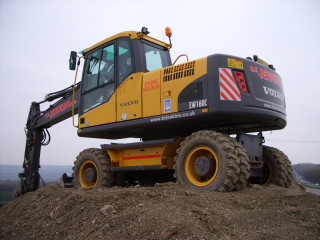 B.T.Jenkins Ltd have built a solid reputation for employing top class operators, who are not only good at the their job on site, but also in terms of how they look after the machines in their charge, as you can see from this example, the machine is in immaculate condition and a great credit to its operator.
The EW160C seen here was added to the fleet last year and is an example of the newest C Series excavators from the Volvo stable. These machines feature the latest V-ACT (Volvo Advanced Combustion Technology) engines and are Tier III compliant.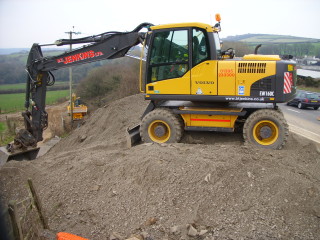 Weighing in between 16.4 - 18.0 tons depending on specification, the EW160C is fitted with the Volvo D6E which has a power output of 106kw (142hp). These engines are said to offer high torque at lower revs, which leads to increased fuel economy.

The cabs on the new C Series machines are in my opinion world class, and having spent some time in one of the EC140C models not long after they were first launched in the UK, I can safely say the operator is well catered for in all aspects.
Additionally, most daily fluid level checks can now be performed at ground level, meaning that the operator no longer has to climb up to the bonnet area to perform such tasks.
This particular machine is fitted with the 2 piece articulated boom, which is a favourite combination in the Central European market and a hydraulic tilt grading bucket which adds to the machines versatility.
Don't forget if you spot any machines of interest on your travels around the world, we would love to see them here on the Digger Blog.