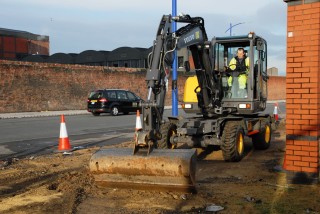 The six-tonne machine was supplied by SMT GB's utility dealer for the northwest of England, Howard Plant Sales, following a demonstration that showed the suitability of the machine.
"We were looking for a compact machine to handle kerb laying on a high-profile road-widening scheme stretching from Liverpool City centre to Seaforth," explains King Construction's transport manager, James Shalliker. "The very nature of the job demanded a machine that was small enough, yet capable of lifting and laying kerb stones with the minimum disruption to daily traffic. We were very impressed with the EW60E on demonstration and found it to be quick, nimble and operator friendly."
With its 2.9-metre boom and 1.6-metre dipper arm, the EW60E has decent working range for a machine of this size. Maximum forward reach is 5.81 metres, its maximum dig depth is 3.29 metres and practical load over height is 4.44 metres. With a minimum front swing radius of just 2.35 metres, it can work in confined spaces.
Permanent four-wheel drive is provided by one large variable axial piston motor and a two-step power shift gearbox, giving a maximum speed of 30kph and a maximum tractive effort of 29kN, making the EW60E versatile both on and off road. With a 1.93-metre wide dozer blade as standard, the machine has an operating weight of 5.6 tonnes.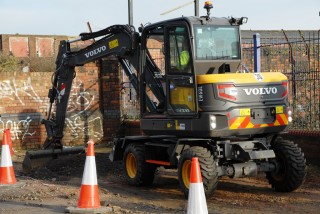 King Construction is no stranger to owning and operating Volvo machines, with compact excavators ranging from the EC18D up to the ECR88D in its fleet.
"Our Volvo machines are proving to be very reliable and are good performers on a whole range of our civil engineering and road maintenance projects which was another reason for choosing the EW60E," says James Shalliker.
The company also recently bought a Volvo P6870C wheeled paver for its road maintenance division. When not on contracting work, the machine will be used at a new academy which is under construction on a five-acre site along the Derby Road in Liverpool. The Real Academy is an initiative supported by King Construction and Liverpool City Council to encourage young people to get involved in construction, and specifically in asphalt paving, with training and apprenticeship opportunities.