In keeping with the garden's aim of demonstrating how beautiful gardens can be created with a lighter environmental footprint, the zero emissions digger began breaking ground on the foundations for the garden on 29th April 29.
It is the machine's very first job since it was unveiled by Volvo Construction Machinery at Bauma earlier this month.
The Morgan Stanley Garden has been designed by garden designer Chris Beardshaw with a range of eco-friendly materials and building methods – starting with the electric ECR25.
Chris says: "We are incredibly proud to debut Volvo's electric excavator during the creation of this year's garden. RHS Chelsea Flower Show offers the perfect arena to showcase the machine because it is such an intense work zone right in the heart of London so reducing exhaust emissions and lowering the noise levels is an absolute game changer."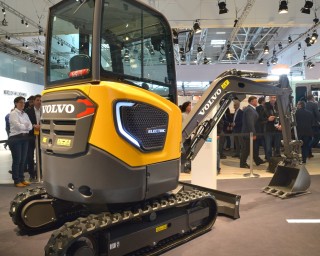 Chris Beardshaw has a strong reputation at Chelsea, having received seven Gold Medals and four BBC People's Choice Awards. Last year he was awarded Best in Show for The Morgan Stanley Garden for the NSPCC.
For 10 days the machine will be excavating the site and trenching for tree pits and a central water feature. Capable of operating for eight hours of work at a time, it will be charged overnight using the show's electricity grid. Once the job is complete it will then move on to its next project where it will be used in one of the first customer pilots for Volvo CE's electric compact product range.
Ahcène Nedjimi, electromobility specialist at Volvo CE, says: "What greater way to showcase the true potential for electric machine technology than on this global platform. Volvo CE has always been committed to delivering zero emissions in the construction industry and now we are fulfilling this promise with a machine that represents a brighter future not only for our industry, but for society as a whole. This exciting project is the best possible demonstration of how we are driving forward sustainable innovations with our partners across any and every task, big and small."