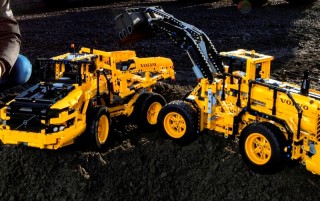 They should be generally available by the autumn but if you can't wait that long to check them out, Volvo Construction Equipment is going to be showcasing them at the fast-approaching Hillhead exhibition in Derbyshire, 24-26 June.
I say them, but actually it is just one kit from which you can make either a Volvo L350F loading shovel or a 4 x4 model of the A25F articulated hauler. Or make a loader and then turn it into a hauler.
Volvo CE will have one of each on its stand at Hillhead and invites model enthusiasts to come and have a play, loading Lego bricks in a specially devised working area.
According to Volvo, the new models can be built as a kit in approximately two days.
For more details on Hillhead, see www.hillhead.com.