ABC Bridges
0845 0603222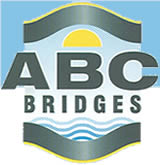 We are a well-established company who have been manufacturing and installing footbridges for over five years. To date we have manufactured and installed over 150 bridges of varying design, lengths and widths right across the UK.
ABC Bridges specialises only in the manufacture and installation of footbridges, so we have to meet our customers needs. We believe that our range of footbridges offers the best all round flexibility and durability.
ABC Bridges offers free consultancy to help establish your needs so that we can deliver the right bridge to meet your requirements.
Due to the flexibility of our designs, we can adjust our standard widths to meet your specific requirements.
We undertake the manufacture and (optionally) the installation of all our footbridges.
We recommend hot dip galvanising our steel constructions to provide the most effective corrosion protection system. This ensures the lowest life time cost, reliability and coating toughness. For most sites, this coating will last up to 100 years, highlighting the potential for significant financial savings.
We cut costs by delivering your bridge ourselves.
Our motto is "No Lorry, no crane". Our flexible modular constructions are strong but lightweight, eliminating the need for large vehicles on site.
Getting in contact with ABC Bridges
Address:
Unit 8, Trinity Farm
Cheltenham Road
Cirencester
Glostershire
GL7 7BH
Tel: 0845 0603222
ABC Bridges Products & Services