Kirkby Tyres Ltd
0870 2428800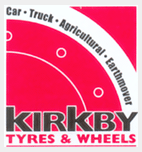 Kirkby Tyres is one of the largest tyre and wheel wholesalers and distributors in Europe, operating from a five acre site next to Liverpool's John Lennon Airport.
Our long established links with the international tyre and wheel market mean that we are able to source and sell a vast range of products worldwide, with the result that we are now a major exporter to most areas of the world.
Holding one of the largest and most comprehensive ranges of tyres, tubes, flaps and wheels has enabled us to become the most versatile tyre wholesaler in the UK and Ireland.
In most cases we can offer Next Day delivery to virtually anywhere on the UK mainland.
We are the sole UK and Ireland agents for the extensive ALLIANCE range of agricultural and earthmover tyres which has a proven record of quality and performance, which is approved and used by many OE manufacturers in the UK and overseas.
Kirkby Tyres are also the sole UK and Ireland agents for DOUBLE COIN all steel radial truck tyres and the recently introduced range of radial Earthmover and radial mobile crane tyres in REM8 design.
We have recently introduced the new and exiting PROTECTOR range of tyres Which include Tractor, ATU/Dumper,Implement,Earthmover crossply and radial And Excavator tyres.
Kirkby also offer a full range of tyres from other manufacturers including TIANLI ARMOUR, TRIANGLE, LINGLONG, TAIFA/BE-STORM,TAISHAN, LEAO MALHOTRA, and a full range of car and van tyres from NANKANG. We also offer an extensive range of wheels to suit every application, and can also modify wheels in our own workshop to meet the needs of none standard fitments.
Kirkby Tyres (Ireland) Ltd also carry comprehensive stocks of high performance tyres, and alloy wheels for most application, with fresh stocks arriving every week from Liverpool, and direct from manufacturers.
Getting in contact with Kirkby Tyres Ltd
Address:
Speke Hall Avenue
Speke
Liverpool
Merseyside
L24 1UU
Tel: 0870 2428800
Kirkby Tyres Ltd Products & Services