MSW Suspended Floor Solutions
0845 168 5857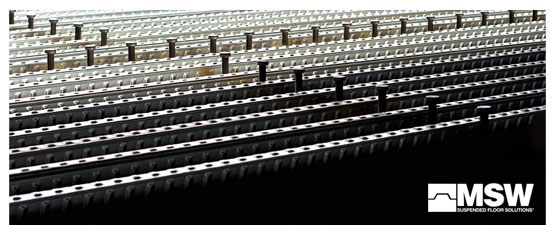 Originally established as Mobile Stud Welding in 1969, MSW has grown to become the UK's biggest name in structural floor systems, offering complete, tailor-made solutions designed to meet the unique needs of individual clients.
With offices in both Nottinghamshire and Scotland, the company is ideally located to work with clients throughout the country and is constantly involved in a diverse range of projects.
The company won its first steel decking contract in 1983 and has built a strong reputation for quality and service ever since. In 1990, MSW joined forces with Kingspan, forming a partnership, enabling MSW to supply and install multideck, adding to its expertise and experience across the board.
Steel Decking:
As the largest steel-decking contractor in the country, MSW supplies and installs an enviable range of decking systems including the latest Multideck 146 to a diverse range of clients.
Stud Welding:
MSW has over 35 years experience when it comes to stud welding. The company is undoubtedly the UK's foremost stud welding expert, having welded more studs to more different projects and applications than anyone else.
Concrete Flooring:
Since its creation in 2002, MSW's dedicated concrete flooring division has rapidly become a key part of the company. Providing high quality, high tolerance, industrial concrete floors for a variety of projects.
The division prides itself on using the very latest techniques and equipment and can supply and install full composite or non-composite floor packages, using mesh reinforcement finished with smooth trowel or power floated.
Safety Netting:
MSW was the first steel decking contractor to have its own safety net division, providing the company, and its clients, with far greater control over health and safety. Since its creation in 2000, the specialist division has help win MSW 11 National Safety Awards, from the British Safety Council, highlighting its commitment to innovative site safety solutions.
The company has over 20 years experience when it comes to working at height, so having a dedicated safety net division was a natural progression for MSW.
Access Flooring:
The company's partnership with Kingspan means that MSW supply and install the entire range of Kingspan access floor products at highly competitive prices.
No matter how large or small a project, MSW can provide a tailored, full raised floor solution, created to suit specific project requirements. From light to heavy duty panels, pedestals with a finished floor height of 50mm to over 1000mm and coverings ranging from barefaced to bonded carpet.
Steel Decking Supply Only, Steel Decking Fix Only, Shear Stud Supply Only, Shear Stud Supply & Fix, Safety Net Only, Lindapter Hanging Systems, Raised Access Floors Supply Only
Getting in contact with MSW Suspended Floor Solutions
Address:
Acton Grove
Long Eaton
Nottingham
NG10 1FY
Tel: 0845 168 5857
MSW Suspended Floor Solutions Products & Services
Flooring
Flooring > Concrete
Flooring > Contractors
Netting > Safety
Fasteners > Stud > Connectors
Concrete > Reinforcement
Concrete > Reinforcement > Fibres
Concrete > Reinforcement > Fibres > Steel
Concrete > Reinforced > Flooring
Concrete > Reinforcement > Steel Decking
Concrete > Reinforcement > Steel Shuttering