NIFL Resin Flooring Limited
0845 644 3743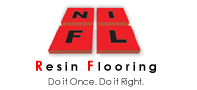 NIFL Resin Flooring Designs, Specifies and Installs Epoxy, Polyurethane & MMA Resin Flooring Systems throughout the UK & NI.
Our sector applications are as follows:
Designer Resin Flooring
Industrial Resin Flooring
Resin Landscaping including Pathways and Driveways
Rapid Curing Resin Systems
Resin Waterproof Car Park Decking Systems
Why Choose NIFL Resin Flooring?
NIFL Resin Flooring is a member of FeRFA & CFA Flooring Associations.
NIFL Resin Flooring is a member of Construction Online, CHAS and SafeContractor.
NIFL Resin Flooring has a Gold Certificate of Commitment from Construction Skills Certification Scheme.
If you require any assistance with a current or future flooring project then please get in touch.
Products and Services
Anti-static - Floor Treatment
Antistatic Flooring
Chemicals - Anti-Corrosion
Coatings - Floor
Coatings - Floor, Slip Resistant
Coatings - Industrial, Service
Composite Floors
Concrete - Flooring, Precast
Epoxy Coating - Service
Epoxy Resin - Floor Coatings
Epoxy Resin - Products
Epoxy Resin - Systems
Epoxy Screeds - Compounds
Floor - Levelling Machines
Floor Blasting
Floor Painting, Contractors
Floor Preparation, Contractors
Flooring - Accessories
Flooring - Anti Static resin
Flooring - Anti-slip
Flooring - Anti-slip, GRP
Flooring - Anti-slip, Metal
Flooring - Aviation
Flooring - Bespoke Systems
Flooring - Channels
Flooring - Chemical Resistant Resin
Flooring - Coating Specialists
Flooring - Coatings, Protective Non-Slip
Flooring - Conductive Resin
Flooring - Contractors
Flooring - Corrosion Resistant
Flooring - Decorative Resin
Flooring - Fire Resistant, Low Smoke Emission
Flooring - Heavy Duty
Flooring - Hygienic
Flooring - Industrial, Resin
Flooring - Jointless Resin , Cementitious Based
Flooring - Non-Slip
Flooring - Pharmaceutical Resin
Flooring - Polyurethane Resin
Flooring - Resin Coating
Flooring - Seamless
Flooring - Slip Resistant
Flooring - Specialists
Flooring - Surfacing Specialists
Industrial Coatings
Industrial Flooring Systems
Polymers
Polymers - Antistatic
Polymers - Floor Screed
Polymers - General
Polymers - Industrial
Polyurethane - Coatings
Resin Based Gravel
Resin Bonded Surfacing
Resin Bound Surfacing
Resin Floors
Resins - Industrial
Resins - Polyurethane
Screeds - Flooring
Screeds - Flowing
Wall Coatings - Industrial
Wall Ties - Resin
Getting in contact with NIFL Resin Flooring Limited
NIFL Resin Flooring Limited Products & Services