Promat UK Limited
01344 381300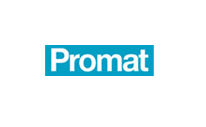 Promat UK is a subsidiary of Promat International, part of the Etex Group of companies, a global organisation with over 12,000 employees and a presence in more than 34 countries. Promat is a market leader in passive fire protection and high temperature insulation. The fire protection division offers an extensive range of boards, penetration seals, glazing and spray products designed to provide systems which meet the most stringent requirements of today's projects.
We are pleased to offer many of the leading brands in fire protection including Promat SUPALUXA®, Promat MASTERBOARDA®, Promat DURASTEELA®, Cafco FENDOLITEA® MII and the Promat PROMASEALA® range of fire stopping products.
In High Temperature Insulation (HTI) applications we provide a range of refractory systems with particular emphasis on the aluminium industry, where we supply the market-leading MONALITEA® range of products.
Promat SUPALUXA® is a strong, lightweight non-combustible building board for use in many fire resisting and general purpose building applications.
Promat MASTERBOARDA® is a versatile Class 0 building board suitable for use in a wide range of internal and semi-exposed applications.
Promat DURASTEELA® is a non-combustible composite panel of fibre reinforced cement, mechanically bonded to punched steel sheets on both surfaces.
The Promat DURAWALLA® is a fully certificated fire protection barrier system. It is built around the Promat DURAWALLA® composite panel.
Promat TD BoardA® is an inert mineral fibre board. It is light green in colour and is normally used in the fire protection of structural steel.
Promat PROMASEALA® provides a cost-effective solution to the latest fire stopping requirements. Effective penetration sealing prevents the passage of smoke, toxic gasses and fire.
Promat TL BoardA® There is an increasing requirement for the thermal upgrading of semi-exposed concrete decks both in the conversion and refurbishment of existing buildings and in new build constructions.
Promat PROMATECTA®-250 is a non-combustible mineral bound light weight board. It has a smooth matt upper surface and is off-white in appearance.
Getting in contact with Promat UK Limited
Address:
The Sterling Centre
Eastern Road
Bracknell
Berkshire
RG12 2TD
Tel: 01344 381300
Promat UK Limited Products & Services