T2 Storage Solutions Ltd
01949 851876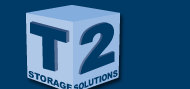 T2 Storage Solutions Limited specialise in industrial storage and interior office refurbishment solutions including Pallet Racking, Shelving, Mezzanine floors, Office Partitioning and suspended ceilings. We have our own in-house design service and have over twenty years experience in the storage solutions and building refurbishments industry, we have expertise in all products and would be delighted to discuss these in greater depth with you.
T2 Storage Solutions boast an impressive portfolio of customers, having worked for many blue chip companies in the past. We cater specifically to suit the budgets, needs and timescales of our customers. Our approach is to listen to your needs, and then use our proven skills to find you the most practical solution. We have a network of specialists in the UK and overseas who help us to achieve this.
T2 have the experience, energy and expertise combined with the most up-to-date CAD and space planning technology to offer efficient and integrated space solutions. Whether your need is to create the perfect office environment or to maximize industrial storage space T2 has the perfect solution for you. By working with T2 you will be introduced to a portfolio of products from leading manufacturers combined with design solutions to satisfy the most demanding of requirements.
Effective project implementation only takes place after we have listened and understood the problems of each individual project. It is only then that we are able to fully appreciate its needs, enabling us to take our clients from the planning stage to completion in one seamless process. We can handle on your behalf, any official permission or approvals and ensure that any proposed works meet Fire, Building Regulations and HSE guidelines.
Our combined experience, innovative thinking and the desire to achieve effective and efficient solutions are the key drivers behind the T2 philosophy. We would like the opportunity to offer you these skills to help you to achieve your vision.
Pallet Racking Pallet Racking, Standard, Adjustable, VNA (Narrow Aisle), Drive In, Rack Protection, Cantilever Racking, Anti Collapse Mesh, Racking Inspections, Mezzanine Floor, Shelving Solutions, Warehouse Solutions, Warehouse Equipment, Office Refurbishment, Steel Fabrication.
Getting in contact with T2 Storage Solutions Ltd
Address:
4 The Saucers
Scarrington
Nottingham
Nottinghamshire
NG13 9BW
Tel: 01949 851876
T2 Storage Solutions Ltd Products & Services