Taylor Studwelding Systems Limited
01924 452123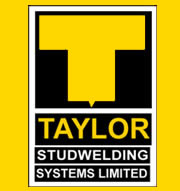 With over 30 years in the studwelding industry, TAYLOR Studwelding Systems Ltd has the right blend of professional experience and extensive resources.
Over the years, we have built an enviable reputation as the UK's leading designer, manufacturer and supplier of studwelding equipment and studs, whilst also exporting products world wide.
We have a network of agents and distributors covering the whole of the UK and most of the rest of the world.
From simple hand held units right through to C.N.C. fully automated systems, TAYLOR Studwelding Systems Limited can provide turnkey solutions to your studwelding requirements.
Studwelding is the future of fixings and fastenings, if your manufacturing process requires you to make a fastening, why not take just 5 minutes to see how TAYLOR Studwelding Systems Ltd can can help you.
Getting in contact with Taylor Studwelding Systems Limited
Address:
Commercial Road
Dewsbury
West Yorkshire
WF13 2BD
Tel: 01924 452123
Taylor Studwelding Systems Limited Products & Services