W L Cunliffe (Southport) Limited
01695 711800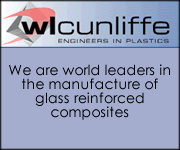 We are world leaders in the manufacture of glass reinforced composites.
Our objective is to provide our customers with a quality product, at an economic price, whilst offering the highest level of service.
We are a technical source for advanced composites and offer a complete turnkey solution, developing projects from initial concept, through to manufacture and volume production..
Specialising in advanced high quality composites, we combine the latest manufacturing technology with a highly experienced and skilled work force.
Contracts encompass a wide range of public and private sectors including
automotive, construction, defence, electronic, engineering, leisure, medical, safety, transport and water.
W. L. Cunliffe Limited operates a registered "Quality Management System" which meets the requirements of BS EN ISO 9001:2000.
Getting in contact with W L Cunliffe (Southport) Limited
Address:
Gratton Place
Skelmersdale
Skelmersdale
Lancashire
WN8 9UE
Tel: 01695 711800
W L Cunliffe (Southport) Limited Products & Services