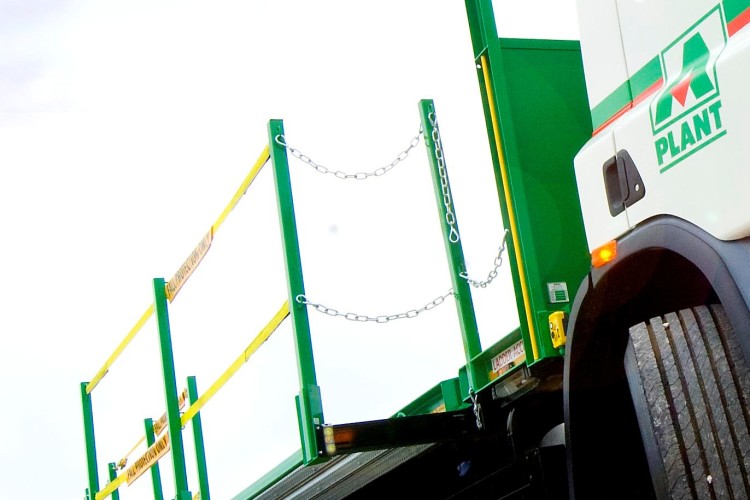 It has fitted a hydraulic walkway to one of its 26-tonne trucks that comes out at the press of a button.
A-Plant director of transport services Shaun Winstanley said: "There are inherent dangers faced by drivers working at height on commercial vehicles during loading and unloading operations.  This new vehicle is revolutionary to our industry as it incorporates a hydraulically operated walkway down one side of the vehicle, allowing drivers to safely enter and exit the items of plant when loading and unloading.  This is a major safety benefit particularly when drivers are transporting items that are the same width as the vehicle body.  Several of our major customers have already requested a demonstration of the new vehicle and it is currently on trial in our business."
A-Plant developed the new vehicle in conjunction with Lancashire DAF and vehicle bodybuilder PPS Commercials to enable safe access for drivers and exceed the Work at Height Regulations 2005.  The original concept was derived from a 'Bright Idea' submitted by an A-Plant HGV driver, whereby employees are invited to submit ideas of how to improve health and safety throughout the company.  Earlier versions required the walkway to be assembled by the driver.  The new version operates within seconds by a button.

The vehicle has also been fitted with a range of other safety features developed in conjunction with electronics firm Brigade.  These include a video recording system that captures CCTV images from four cameras and provides footage in the event of an accident or if an insurance claim is required.  It also incorporates Brigade's Sidescan Ultrasonic Sensor System which detects objects in the vehicle's path providing audible warnings to the driver, a BBS (white sound) reversing alarm which the hearing impaired will detect more readily than a single tone alarm and an LCD monitor with three camera inputs and three auto triggers such as reverse gear selection.  The on screen distance markers assist drivers when manoeuvring and there is the option to switch between mirror/normal views.
It also has an electronic on-board weighing system to ensure that all loads are legally compliant and an anti-theft Runlock device which enables drivers to leave the vehicle running while removing the keys to operate the beavertail. 
Got a story? Email news@theconstructionindex.co.uk