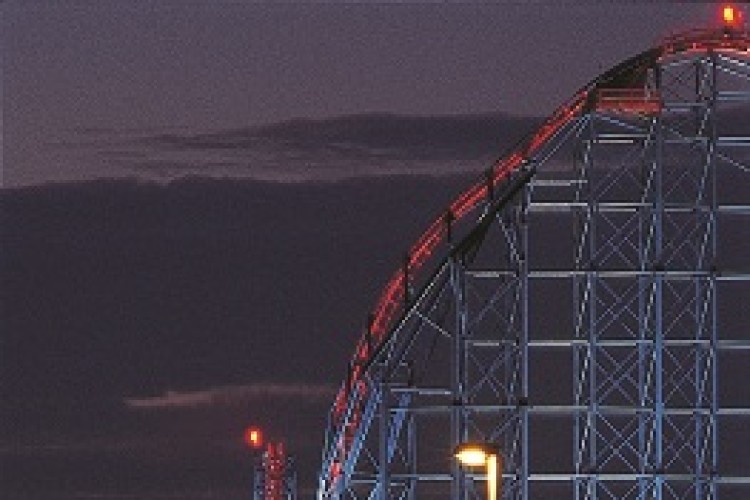 With market-proven expertise for providing comfortable and safe heated working environments, AmbiRad provided the perfect solution.
Built to store £10 million of fibre optics, lasers and illumination exhibits, the 120,000 sq ft facility, named Blackpool Lightworks, also houses workshops, spray booths, storage and offices. The building, replacing a previous leased property, incorporates higher ceilings to ensure sufficient space is available for the creation, and testing, of large exhibits and lighting pieces.
With a building of this size, wall-mounted heating would not be cost-efficient or powerful enough. The underground heaters also proved unsuitable as the floor would have to withstand the weight load of a 16 wheel articulated lorry, as well as more than 700,000 kilograms of equipment. To solve this, AmbiRad supplied five units from its Vision range, with specialist Roger Whalley Ltd appointed to complete the installation.
AmbiRad supplied 3 x VS35 and 2 x VS40 radiant heaters for use in the building's large workshop. Incorporating the innovative advanced burner, more of this heat is distributed to floor level, thereby greatly improving working conditions for the workshop staff. As radiant heat works like the sun, it heats objects in its path, not the air or space, for improved efficiency levels and a far more targeted heating system.
Installed in a U tube herringbone configuration, the system delivers a range of benefits, meeting the specific needs of Blackpool Lightworks. With only one penetration required to enable combustion to be expelled, it provides improved aesthetics as well as minimal risk of water ingress – a key requirement to protect the building's extensive electrical components.
Achieving stringent performance requirements, all Vision units are CE approved to meet EU consumer safety, health or environmental requirements. Eliminating both distribution and standby losses, coupled with high operational efficiencies at the point of use, the installation can deliver fuel savings of up to 65% compared with conventional heating systems.
Dating back to 1879, the Blackpool Illuminations began with just eight electric arc lamps, steadily growing to become the six-mile long extravaganza of the modern day. With its new state-of-the-art manufacturing facility, and with a cutting edge heating system courtesy of AmbiRad, the Illuminations will continue to grow and become a more impressive spectacle with every year that passes.
Got a story? Email news@theconstructionindex.co.uk