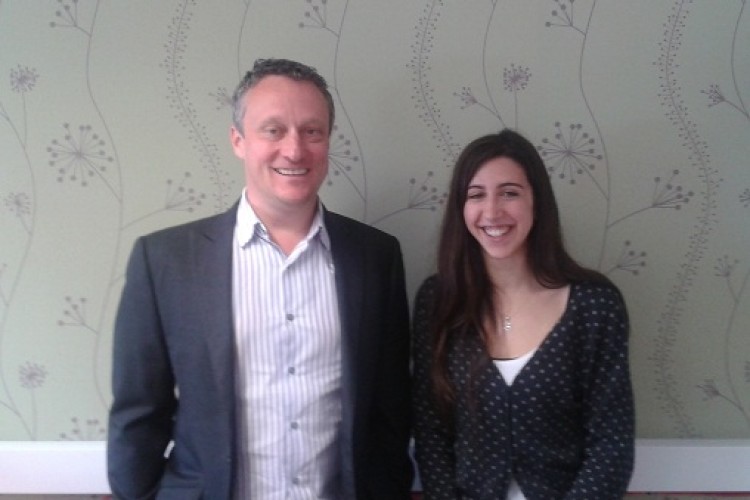 An Essex business is enjoying a green makeover thanks to an innovative collaboration with Anglia Ruskin University.
Great Dunmow-based Multitech Site Services, a leading provider of temporary electrics and plumbing to the UK construction industry, is working with graduate Villy Kozatsani and academic John Buchanan, from Anglia Ruskin's Department of the Built Environment, to enhance its environmental management practices.
The "Knowledge Transfer" scheme is part of Anglia Ruskin's Low Carbon KEEP Programme, which is funded by the European Regional Development Fund and managed by Anglia Ruskin on behalf of universities in the East of England. 
Prior to Villy joining Multitech, the company had neither an environmental expert nor the capacity to engage with the environmental agenda.  Villy's main objective is to achieve ISO14001 accreditation, which allows organisations to minimise how their operations negatively affect the environment and shows them how to comply with applicable laws.
One of the first projects she has been involved with is implementing an eco-driving scheme for Multitech's 30 staff who regularly use cars and vans.  By avoiding unnecessary acceleration and braking, checking the rev counter before changing gear and driving at slower speeds, it can reduce both fuel consumption and emissions.
Villy, who is also investigating the feasibility of the use of ground source heat pumps, said: "Environmental issues are a huge challenge for all businesses, but the construction industry can make a significant contribution by reducing greenhouse gas emissions, minimising waste and promoting the sustainable sourcing of products.

"Tackling environmental issues today requires the cooperation of both the academic community and businesses. Multitech is showing excellent commitment in mitigating its environmental impact, whilst Anglia Ruskin's contribution is vital for integrating environmental principles in the company's operations.
"The ultimate goal for the next 12 months is to work towards an environmental management accreditation and embed environmental values within the company's culture. We are aiming to become the leading sustainable temporary electrical sub-contractor for the UK construction industry."
John Buchanan, the academic supervisor who visits Multitech on a weekly basis, said: "It is exciting to be involved in this development within the organisation and assist Multitech in achieving ISO 14001 accreditation, as well as reducing the carbon footprint of their business.  Processes such as this also contribute significantly to knowledge transfer between SMEs and academic research."
Gavin Perry, operations manager of Multitech Site Services, said: "Environmental impacts caused by construction activities are significant.  At Multitech it has been our aspiration to integrate environmental management into the company's core policies and lead by example in the construction industry.
"The Low Carbon KEEP and the partnership with Anglia Ruskin have given us a great chance to develop an environmental management system and adopt innovative solutions in order to anticipate future environmental challenges, engage with the supply chain and significantly improve the environmental performance of our activities."
Got a story? Email news@theconstructionindex.co.uk