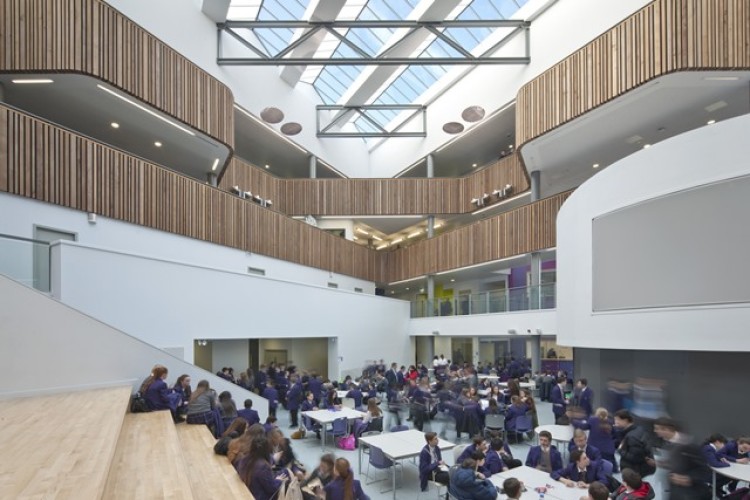 The architects are hoping to inform political debate in the run up to next year's election and get some ideas onto the manifestos of the major parties.
The RIBA report, Building a better Britain, says that urgent action is needed to build more schools. Of the 29,000 schools in Britain, 80% are beyond their shelf life, it says.
The previous Labour government's Building Schools for the Future (BSF) initiative set out to build or renew 737 schools but completed just 178 before being scrapped by the coalition on cost grounds. The replacement Priority School Building Programme (PSBP) intends to rebuild or refurbish just 261 schools by 2017.
"Progress has been slow – three years on from the announcement of PSBP, building work has started in fewer than 30 schools, with the first completed in May this year," RIBA says. "UK's school building programme is advancing at an alarmingly slow pace."
Not only does RIBA want more schools, ,it wants them better designed, better built and bigger.
"The overriding cost-efficiency of new schools set at £1113 per square metre is simply too cheap to achieve quality schools that will stand the test of time," it says. "The capital cost
per square metre for new schools should be increased by at least 20% to improve building durability and limit future maintenance costs."
RIBA also wants to see larger schools, with central atria. It says that schools being built under the coalition's PSBP are 15% smaller than those built under the previous BSF initiative. This could have a direct impact on maintenance costs and student well-being, the architects say.


On planning policy RIBA says there should be a re-assessment of all green belt land to see if it is worth protecting.
It argues: "If there was to be any reclassification of the green belt to accommodate development, we first need to know what is there. We do not currently have a robust way of assessing the quality of our green belt. This should be assessed based on environmental, recreation and amenity value and should establish an evidence base to help local authorities manage their green belt in order to support sustainable growth. Any discussion on greenbelt is often undermined by an emotional response rather than sound evidence."
The report continues: "With the right approach, developing areas of low value green belt could be a mechanism to unlock brownfield sites, if local authorities could retain the uplift in land value generated by granting planning permission on these sites, and use this income to remediate brownfield sites to increase density close to our urban centres."
To get more houses built, RIBA suggests tax incentives for firms producing factory-made construction components and for developers that make use of prefabrication and off-site construction techniques.
RIBA further suggests that the building regulations should be changed to outlaw the rabbit hutches and shoe boxes that house-builders often get away with, to provide decent space inside and outside new homes.
The next government should also do more to get people out of their cars and walking, for health reasons. It should commit to spending 10% of the £13bn transport budget on active travel (walking and cycling). It suggests ring-fencing a proportion of all community infrastructure levy (CIL) revenue for local sustainable transport initiatives.
RIBA president Stephen Hodder said: "The next UK government should empower our cities, towns and villages to prosper and provide the homes, education, services and jobs that are vital for the nation. The next government needs to look at architecture and the built environment as part of the solution. Reform of the green belt, building more new homes, talking the failed current school building programme and empowering English cities to compete on the global stage need to be priorities."   
Got a story? Email news@theconstructionindex.co.uk