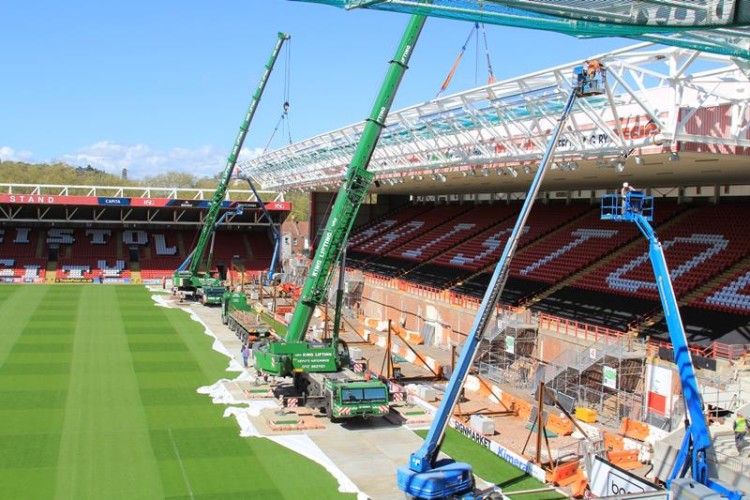 The roof truss of the stadium's Dolman Stand is 106 metres long and weighs 75 tonnes.
It was built at ground level over the past few weeks before a pair of 200-tonne capacity all terrain cranes, supplied by King Lifting, lifted the steel structure into place.
Barr said that lifting the roof truss was one of the most complicated part of the £45m rebuild of the stadium, which is home to Bristol Rugby as well as Bristol City Football Club.. 
Mike Henderson, operations manager for Barr Construction, said: "The design has had to take in a lot of difficult parameters. From working with the existing Dolman roof to the new South Stand, we've had to work to tight tolerances of 10mm at each end of the truss. When you consider that it is 106-metres long and weighs 75 tonnes it's not an easy piece of steel to slot in to place, but it was a momentous occasion to see that it has."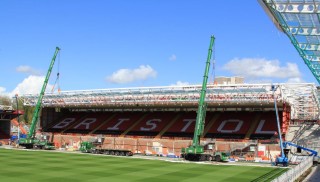 Bristol Sport chairman Martin Griffiths said: "Fans coming to this weekend's games at Ashton Gate will really start to get a sense of what this stadium is going to become."
Barr construction has been on site since July last year. Phase one consisted of the demolition and rebuild of the South Stand with phase two seeing the Dolman Stand remodelled to include an extended roof and new lower tier.
Phase three will start this summer, with the Williams stand beingdemolished and replaced by a two-tier stand that will hold 11,000 people.
Got a story? Email news@theconstructionindex.co.uk