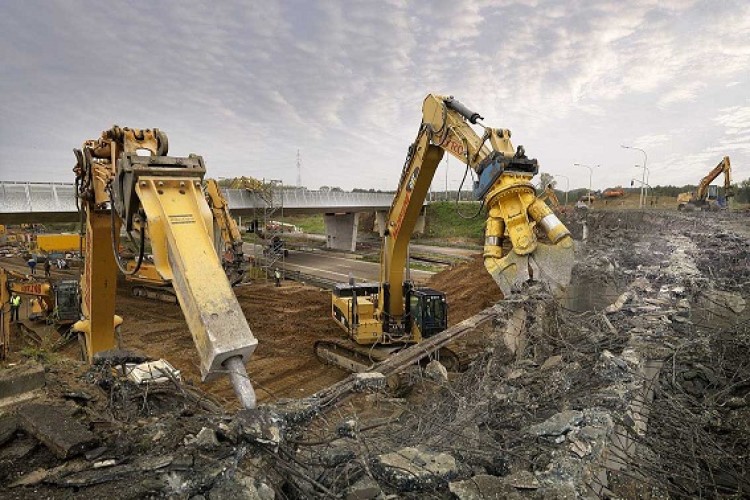 Product diversity is the central focus of the Atlas Copco stand at the NFDC's Demolition Day III, with the company presenting to visitors details of the comprehensive range of high-performance, cost-effective equipment it offers users in the demolition sector.
Throughout the day, the company's experts will be available on the stand to discuss visitors' specific requirements and to propose efficient and cost-effective solutions based on the latest developments in demolition technology. The Atlas Copco team will also be able to arrange free, no-commitment demonstrations of the company's latest products for potential users with suitable applications.
"We are best known in the UK demolition industry for our breakers," said Keith Lambourne of Atlas Copco, "including our new HB 10,000, which we believe to be the world's biggest and most powerful volume-manufactured hammer. Breakers are, however, only a small part of the product range we offer for demolition applications, so we are using Demolition Day III to introduce potential users in the demolition sector to our full range of equipment, and to explain the important performance and cost benefits that our products can provide."

Among the many innovative products that Atlas Copco will be introducing to Demolition Day visitors are the company's latest CC-combi cutters. These are available in lightweight yet robust light-duty versions that are ideal for light demolition work such as stripping out interiors and cutting narrow lightly reinforced concrete elements, and also in heavy-duty versions that can handle the toughest tasks including cutting heavily reinforced concrete and steel structural members.
Visitors will also have opportunities to find out about SC single-moving-jaw scrap cutters that generate significantly higher cutting forces than comparable cutters with two moving jaws, DP demolition pulverisers that incorporate a 360º rotation unit to allow fast targeting positioning in all situations, and MG-multi grapples that form a key part of the Atlas Copco family of silent demolition tools. In addition, information about many other interesting options from Atlas Copco's extensive product range will be available on the company's stand.
Got a story? Email news@theconstructionindex.co.uk