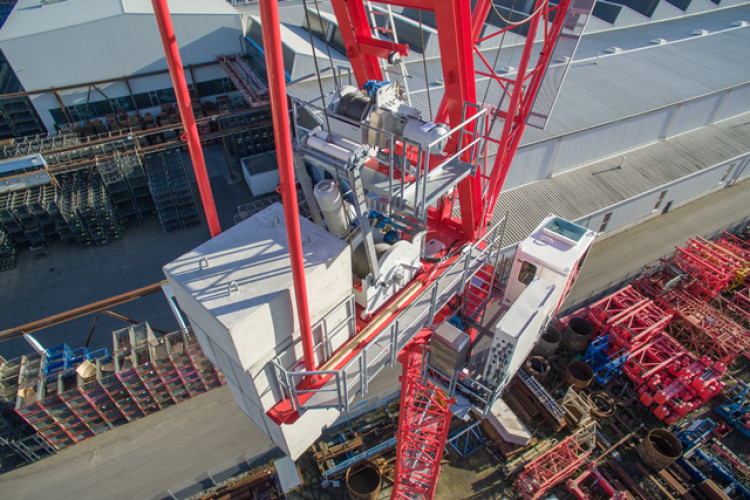 The Wolff 7534 Clear is the German company's most powerful flat-top crane to date and rounds off its product line in the 315 tonne-metre range.
The company says that the new crane is easy to assemble, space-saving and economical, designed especially for inner city construction sites.
The Wolff 7534 is available in two versions. The 7534.8 is a double-reeved crane with maximum capacity of 8.5 tonnes while the 7534.16 is reeved with either two or four falls of rope to give a maximum capacity of 16.5 tonnes.
Also new is the 275B luffing-jib crane for high rise structures. This machine "includes all the technology and know-how we have gained over three decades developing luffing cranes," says product manager Gerd Tiedtke.
The 275B's maximum load capacity at minimum radius is 24 tonnes in two-fall configuration and it is equipped with a high power winch to give a maximum hoist speed of 222m/min for maximum productivity.
This crane is the successor to the successful 224B and is Wolff's most advanced luffer to date. "Ever since we developed our first luffing crane in the 1980s our luffers have set standards in the industry," says chief executive Peter Schiefer.

The 275B has a maximum jib length of 60m and a 75kW hoist winch that takes up to 700m of rope.
Both hoist and luffing gear have automatic power optimisation with an extra 10% increase of lifting capacity always available via Wolff's boost function, which is now a standard feature.
Two tower sections are available: 2m x 2m or 2.3m x 2.3m plus transition section for extra-high rise projects.
Also on display is the Wolf 8033 Cross – a 450 tonne-metre saddle-jib crane.
Bauma 2016 takes place in Munich from 11 to 17 April. See www.bauma.de for details.
Got a story? Email news@theconstructionindex.co.uk