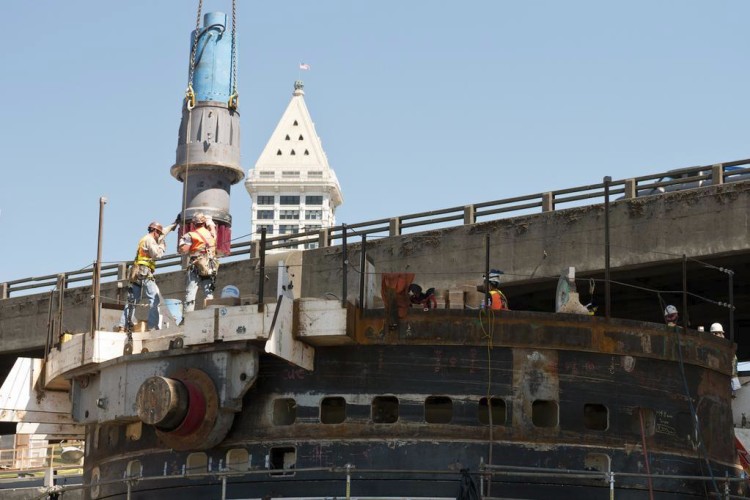 The machine, called Bertha, has been at a standstill since late 2013 instead of getting on with tunnelling work for the replacement of the Alaskan Way Viaduct in the US city of Seattle.
The contracting JV, Seattle Tunnel Partners (STP), has been reconnecting the two largest pieces of the TBM's front end and motor installation is now under way.
Crane crews from Mammoet have lifted Bertha's bearing block into place atop the cutterhead and drive unit. The newly reconnected front end of the machine will remain at the surface while the TBM's manufacturer Hitachi Zosen finishes installing the motors.
When installation of the motors is complete, Mammoet will lower the 2,000t piece back into the pit.
STP's most recent schedule indicated the lowering of pieces would begin in early August, but some parts had to be remanufactured due to tight tolerances – measured in millimetres – that need to be met as the machine is reassembled. Those new parts have since arrived and been installed.
The contractor has a plan in place to resume tunnelling in late November.  
Once the machine is in the pit, crews will begin the lengthy task of reconnecting wires, hoses and other parts to the portion of the machine that remains in the ground. A series of tests will follow to ensure Bertha is ready to get back to work.
Got a story? Email news@theconstructionindex.co.uk