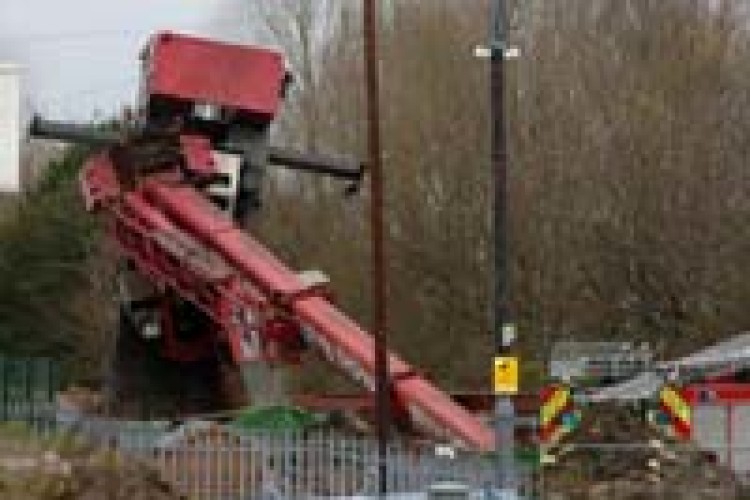 Benjamin Lee, 36, was managing director of Siteweld Construction Ltd when an employee was killed in a mobile crane collapse in 2007. The company has ceased trading so received just a nominal £50 fine. Mr Lee has been fined £80,000 and ordered to pay £18,478 in prosecution costs.
The fine was handed down by Liverpool Crown Court, which heard the case of a father-of-two who was crushed to death when a 50t telescopic crane overturned in Liverpool.
Mark Thornton, 46, from Longridge near Preston, died when the crane toppled over while moving a steel column on 29 March 2007. Mr Thornton had been helping to construct a new floor on a warehouse at Wavertree Business Park when he was struck by the column.
His employer, Siteweld Constructio,n and boss Mr Lee were prosecuted by the Health & Safety Executive (HSE) for failing to make sure the work was planned and carried out safely.
Liverpool Crown Court heard the crane had been used to lift the 6t steel column when it was nearly 18m away, taking it well outside its safe lifting capacity for that distance.
The HSE investigation found the crane had not been properly maintained and the external alarm could not be heard by those working nearby. The override switches were also faulty, including the switch that prevented the crane lifting loads beyond its capacity.

Mr Lee of Ashley Lane, Goosnargh, Preston, pleaded guilty to breaching Regulation 8(1) of the Lifting Operations and Lifting Equipment Regulations 1998. He was fined £80,000 and ordered to pay £18,478 in prosecution costs on 16 December 2011.
Siteweld Construction Ltd, of Berry Lane, Longridge, Preston, pleaded guilty to the same offence. It received a nominal fine of £50 with no costs as it has ceased trading.
The crane hire firm, Bryn Thomas Crane Hire Ltd, and the crane's operator, Frederick Scott, were also prosecuted for health and safety failings. They were sentenced at an earlier hearing at Liverpool Crown Court on 11 April 2011. 
The company escaped punishment because it was officially in administration, even though the Thomas family had put it under and bought the operational assets straight back again. The operator was fined £2,500.
HSE investigating inspector Sarah Wadham said: "It is tragic that Mr Thornton died because a series of health and safety warnings and procedures were ignored. The crane was simply not capable of lifting the steel column, when it was nearly 18 metres away, without it being overloaded.
"If the work had been properly planned, and the crane had been properly maintained, then Mr Thornton would still be alive today. It is vital construction companies learn from this case to prevent similar deaths in the future."
Got a story? Email news@theconstructionindex.co.uk