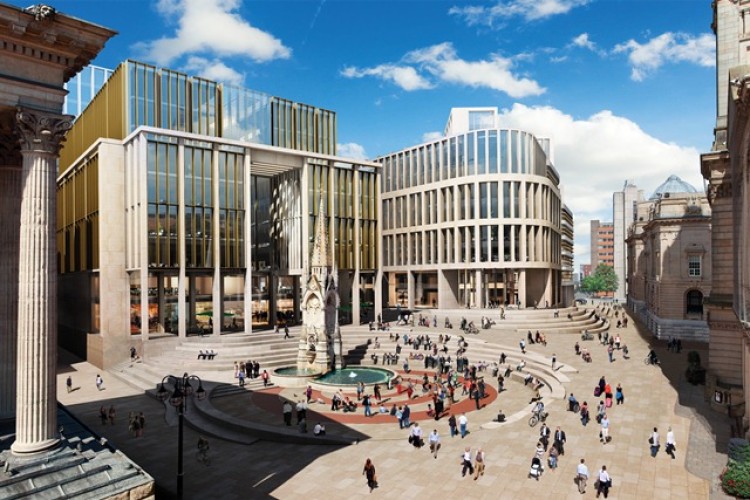 The scheme involves construction of up to 10 new buildings on seven hectares of land in the city centre between Centenary Square and Chamberlain Square.
As previously reported, Carillion has the contract for enabling works and first phase of infrastructure work.
Project client is Paradise Circus Limited Partnership (PCLP), a partnership between Birmingham City Council and BT Pension Scheme, managed by Hermes Real Estate with Argent as development manager.
First phase includes major demolition, significant infrastructure changes and enhancements to the public realm, including improvements to Chamberlain Square.  These works, which include changes to the highways surrounding the development, will begin on 5th January 2015.
The first two office buildings overlooking Chamberlain Square will be speculatively developed, creating 28,000m2 of new office space. A detailed planning application for the buildings will be submitted in early 2015. Glenn Howells Architects and Eric Parry Architects have been appointed to design the first two office buildings which will be delivered for 2018. 
The development has been rebranded as just 'Paradise', reflecting the fact that the 'circus' element of the site will disappear when the section of Paradise Circus Queensway road running alongside Birmingham Town Hall from Great Charles Street is pedestrianised as part of the approved scheme. 
Hermes Real Estate chief executive Chris Taylor said: "The transformation of this significant site at the civic, cultural and historic heart of the city will start with a programme of enabling and infrastructure works funded through the approved investment by the Greater Birmingham & Solihull Local Enterprise Partnership (GBSLEP)."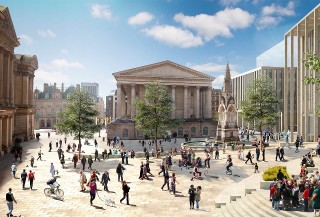 Got a story? Email news@theconstructionindex.co.uk