Keltbray Piling is installing what it says is "the first ever permanent works pile using a zero cement concrete".
Keltbray is installing a secant wall and bearing piles for main contractor Bouygues.It described the project as "a new landmark for the UK construction industry".
The Cemfree material has been developed and manufactured in the UK by the DB Group. It is an ultra-low carbon alternative to traditional cement concrete. It has all of the structural characteristics of traditional concrete, Keltbray says, and is more sustainable. It is also more resistant to chloride ingress and requires fewer construction joints and less crack-control steel when used within key structural elements.
Keltbray Piling managing director Stuart Norman said: "Using Cemfree in the piled foundations over traditional concretes has the potential to save up to 80% in embedded carbon. These works have been a part of a growing collaboration effort with our industry partner, the DB Group, which manufactures the Cemfree binder product. This is Keltbray's fifth project where we have used Cemfree but only the first time we have used it for permanent works and so far we're delighted with the results."
Following this project, Keltbray's Demolition & Civil Engineering division will proceed with follow-on capping beam and excavation works.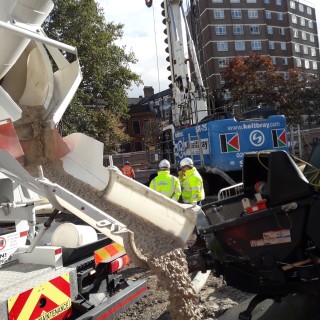 Cemfree is a proprietary alkali-activated cementitious material (AACM) that activates pozzolanic materials such as ground granulated blast-furnace slag (GGBS) and pulverised fly ash (PFA) to create a Cemfree binder that can replace a variety of cement types to create Cemfree concrete. DB Group says that the reaction between GGBS and Cemfree binder forms a solid material comparable to OPC, making it an ideal replacement.
Bouygues has a £100m contract to construct the first phase of Taylor Wimpey's Mount Pleasant development in Farringdon. An old Royal Mail sorting office is being redeveloped for housing. [See our previous report here.]
Bouygues UK has previously trialled Cemfree on its redevelopment of the Gascoigne Estate in Barking. Cemfree concrete was placed into two 2.4m3 wall shutters and  four 0.5 m3 slab sections to enable a full evaluation of the material, with key factors being workability retention, ease of placement and finish; in total 6 m3 of Cemfree concrete was poured. Everything went according to schedule during the trial with the team placing the concrete commenting that the material was easier to place and finish than the conventional concrete they were using.
Bouygues UK's Jean-Marie Perret, leading the Cemfree trials for the Gascoigne Estate, said, "We are always looking for new ways to innovate, and the carbon-saving potential of Cemfree is considerable. Initial trials have been very positive and we will continue to explore its potential as a sustainable alternative to traditional concrete – a hugely exciting possibility."
Got a story? Email news@theconstructionindex.co.uk